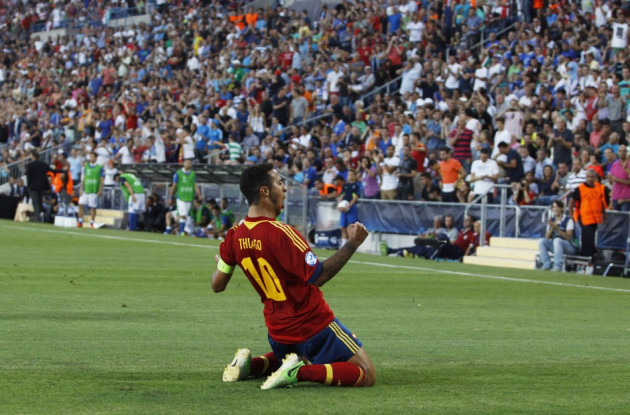 Johan Cruyff has told Manchester United target Thiago Alcantrara to seriously consider leaving Barcelona if he is not promised first team football next season.
The Catalan giants are desperately trying to convince the gifted midfielder to commit his future to the club, but a lack of assurances regarding his opportunities in Tito Vilanova's starting XI next season coupled with his release clause of €18m have left him on the brink of leaving.
Keen to add the Spain Under-21 captain to their ranks, United have been closely linked with a move, ready to offer Thiago an integral role in their midfield in addition to an attractive salary that dwarfs his current earnings at the Nou Camp.
Dutch legend Cruyff, a revered figure around Cataluña after his services to the club over the past 40 years, sees little other option for both the club and player if first team football at the Nou Camp is not promised.
"People can think what they want but Barcelona are not doing this purposefully," Cruyff told Marca.
"At this point comes the philosophy of the club - you should assign, sell and invest in a player and do it as what you think is right.
"If he really has little chance to play, the he has to go."
Thiago further enhanced his burgeoning reputation with his sublime performances as Spain claimed the Under-21 European Championships earlier this month in Israel.
The Italian-born Spaniard would appear to be reluctant to leave his boyhood club, but with the likes of Xavi, Andres Iniesta, Cesc Fabregas and Sergio Busquets blocking his passage to consistent first team football, a move away from the Camp Nou is a real possibility.
In the same interview, Cruyff also caused a stir by suggesting that Barcelona should consider selling Lionel Messi, having brought Brazilian superstar Neymar to the club this summer.
The reigning Spanish champions fended off interest from Real Madrid to sign the 21-year-old from Santos for a reported €54m, making the tantalising prospect of the four-time Ballon d'Or winner and Brazilian prodigy combining in the same team a real one.
But Cruyff maintains there are no certainties in whether the duo of Messi and Neymar will flourish as many expect.
"With Neymar on board, I would have planned for the possibility of selling Messi, and some would agree with that, others not," he added.
"You are talking about a team, its players, the things around it... There are too many things at stake. That's why it's so difficult to manage such a top class squad."
"We'll have to wait and see - it could turn out well or badly. It's a risk."