A new and unlikely national Brazilian sporting hero came to the fore in a truly fantastic finish to a dramatic men's pole vault final at Rio 2016. 22-year-old Thiago Braz da Silva provoked scenes of wild celebration inside the Joao Havelange Stadium and across the city by clearing an Olympic record height of 6.08 metres to take gold ahead of defending champion Renaud Lavillenie of France.
The entire event was far from routine, with treacherous downpours leading to the final being restarted and eventually a temporary suspension of all athletics events.
A still saturated mat then clearly threw one or two competitors off kilter, not least China's Xue Changrui, and persistent mechanical problems with the bar led to more lengthy delays and a farcical total running time in excess of three hours.
Such a late finish actually seemed to add to the sense of occasion during a memorable final duel after former Ole Miss star Sam Kendricks had guaranteed third with a clearance of 5.85m and in the process claimed Team USA's first men's pole vault medal since Timothy Mack and Toby Stevenson sealed an all-American one-two back in Athens in 2004. New York's Jenn Suhr is the current world and Olympic women's champion.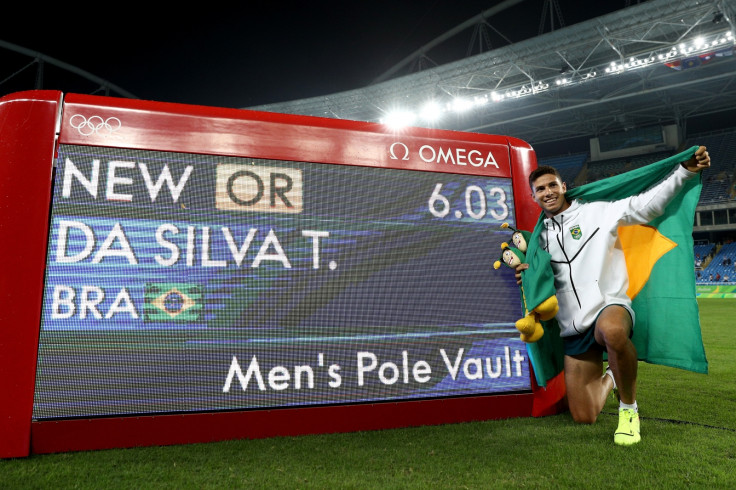 Many immediately stipulated that Da Silva's success could be a watershed or even iconic moment for the Games, which have so far largely failed to generate significant home support. Brazil's only other gold winner so far is Rafaela Silva, a product of one of Rio's toughest favelas who beat Sumiya Dorjsuren in the final of the women's -57kg judo division last week.
The hosts currently lie 16th in the medal table, having won silver and bronze in gymnastics, shooting, judo and swimming. Da Silva, unquestionably lifted by a partisan crowd who really became invested in the competition, is the first Brazilian male athlete to win Olympic gold in an athletics event since Joaquim Cruz triumphed in the 800m 32 years ago. Maurren Maggi took the women's long jump title at Beijing 2008.