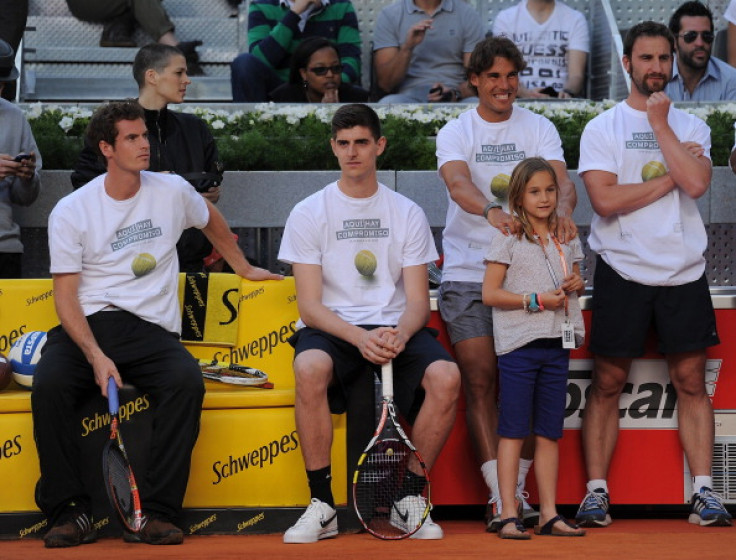 Thibaut Courtois maybe one of the best goalkeepers at present, but not many know that he is an avid fan of tennis and even plays some in his free time. It is this love for tennis that helped him strike a friendship with World Number two Andy Murray.
The Chelsea stopper, who played competitive tennis as a kid, took part in an exhibition match hosted by Iker Casillas and Rafael Nadal in May 2014, and this is where he met Murray, who loves watching football.
Speaking recently with the Daily Telegraph, Andy Murray said, "I'm an Andy Murray fan. We talk sometimes and, if I can, I try to go to watch him. When we were both in Spain, there was a charity exhibition before the Madrid Open and we started talking and he said he likes football and we talked some more. We have kept in touch and we send some messages."
"Sometimes I watch tennis and try to take something from it. In tennis your footwork is important and how you position yourself, so obviously that is something you can take to the football field. Not actually knowing you are taking it, but, because you have played tennis, it is there."
Courtois, who moved to Chelsea from Atletico Madrid after being sent off on loan by his parent club, has cemented his place as the number one keeper for the North London club with his performances helping them win the English Premier League title last season. However, with Chelsea languishing on 11th spot at the moment, there are fears that he could be tempted away from Stamford Bridge, if as expected they miss out on qualification for next season's Champions League.