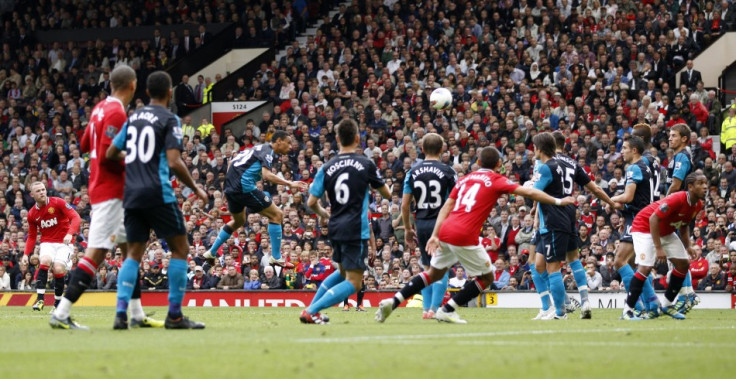 Armand Traore admits he thought Arsenal's humbling defeat at Old Trafford in August had cost him his move to QPR.
The precocious young left-back was part of the Arsenal side dismantled by Manchester United 8-2 and it came just days before the close of the summer transfer window.
The youngster had already agreed a deal to move from Arsenal to QPR but a spate of injuries to Arsene Wenger's side resulted in the Senegalese international having to be drafted in at the final minute.
The 22-year-old admits he thought Arsenal's disastrous performance against Sir Alex Ferguson's side would deprive him of a move away from the Emirates, where he had played a marginal role up until that point.
The former Monaco youth player intimates his agent rang Neil Warnock immediately after Arsenal's chastening nadir in order to determine if QPR still wanted him.
Traore told Standard Sport: "I thought that game (Manchester United against Arsenal) had cost me my move. I was thinking 'nightmare, I am going to stay at Arsenal'.
"But my agent spoke to Warnock after the Arsenal match and he didn't expect me to play anyway and said the deal was still on. I was really happy he still wanted me.
"I still wondered what he was thinking (about his performance for Arsenal) and what the QPR fans would think of me joining them after that but everyone at the club has been great with me.
Traore concedes he was not mentally prepared to play the match which turned out to be his final act in an Arsenal shirt.
"I know people think all those Arsenal players were rubbish that day but, personally, I wasn't there in my head. I was all set to join QPR on the Thursday and then Arsenal said I had to play this game first." The French born fullback continued.
"The fact is I wasn't fit. I remember after the first few minutes I went to close someone down and bang, I felt my groin. I tried to play on and at half-time I said to the physio I didn't think I could play on but they told me I had to. It was a nightmare."
The QPR star now fears some of the Arsenal fans and indeed a few of his ex-teammates may 'hate' him following his recent admission.
"A lot of Arsenal fans probably hate me and some of the other players. They probably always will because of that game. But we were just a bunch of reserves and players with little confidence taking on a team still on a high from what they'd done last season."
Having faced Manchester United once already this season, the former Arsenal star comes up against them again this weekend, when Warnock's side host the defending Premier League champions at Loftus Road on Sunday.