Thirty firefighters battling to control a blaze in the Iranian capital of Tehran have been killed after the high-rise building they were inside collapsed around them in a matter of seconds.
Iran's Press TV confirmed the 30 emergency responders had been killed. A further 75 people were injured, 45 of them also firefighters, in the fire and the subsequent collapse of the Plasco building, an iconic structure in central Tehran, AP reported.
"The building is one of the oldest buildings in Tehran. The Plasco building is a very old building in southern Tehran. It is mostly a commercial building," Iranian state TV said, referring to the structure, which is more than 50 years old.
Flames could be seen from miles around as 11 teams of firefighters battled the fire. When the building finally collapsed without warning large plumes of brown dust was sent into the sky.
In the images broadcast on state television one side of the building started tumbling first nearly knocking one firefighter off a ladder as he contended with the flames.
Iran's Fars news agency reported that the majority of shop owners and residents in the Plasco had been successfully evacuated before the collapse. The semi-official news outlet reported the fire started around 8 am local time (4.40am GMT) local time when many shopkeepers were not inside the building".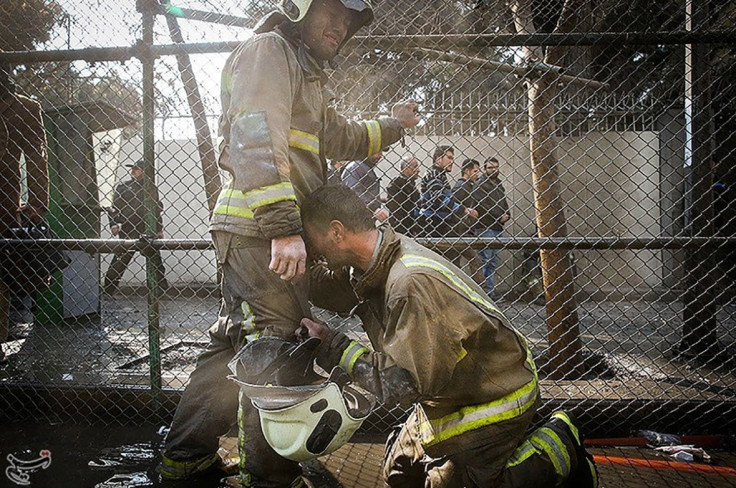 It is not clear whether any other individuals have been left trapped beneath the rubble of the building. The 38 confirmed wounded in the blaze have been taken to hospital for treatment.
The 17-floor high-rise was built in the early 1960s by Iranian Jewish businessman Habib Elghanian and named after his plastics company. At the time of its construction it was the tallest building in the city.
The London Fire Brigade has sent a message of solidarity through social media to the friends and family of the firefighters in Iran.