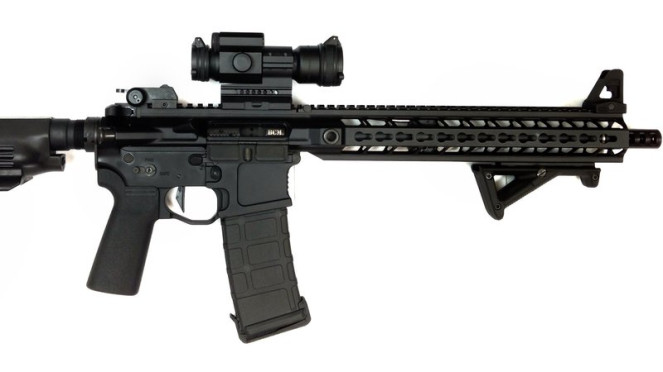 As the Republican National Convention steams toward what's bound to be a hot mess, a petition has been launched by gun lovers (or Republican opponents) to allow firearms inside.
The Quicken Loans Arena in Cleveland, Ohio, where the convention will be held in July, has a strict no-guns policy. Ohio, however, is an "open carry" state, meaning people can pack loaded guns on their hips just about anywhere if they so desire (though firearms are not permitted in the state capital in Columbus).
The petition charges that the arena policy "is a direct affront to the Second Amendment" —which ensures the right to bear arms — and "puts all attendees at risk."
The provocative petition posted on Change.org features a photo of an automatic assault rifle and is headlined: "Allow Open Carry of Firearms at the Quicken Loans Arena during the RNC Convention in July."
"As the National Rifle Association has made clear, 'gun-free zones' are 'the worst and most dangerous of all lies.' The NRA, our leading defender of gun rights, has also correctly pointed out that "gun free zones ... tell every insane killer in America ... [the] safest place to inflict maximum mayhem with minimum risk," the petition states.
If Republicans are "forced to leave their firearms at home," it will put "tens of thousands of people at risk" because they won't be able to defend themselves in and around the convention center in Cleveland, which is "consistently ranked as one of top ten most dangerous cities in America," notes the petition, adding: "This doesn't even begin to factor in the possibility of an ISIS terrorist attack on the arena."
The petition was quickly gathering signatures and hit more than 9,100 names by the evening of 24 March. It was was filed by Americans for Responsible Open Carry, but the group doesn't have an online presence and can't be located, so it's difficult to say exactly what's motivating the group, notes the Akron Beacon Journal.
The petition may be a straight-forward effort to support guns at the convention. Or the group could actually be a GOP-attack organisation, attempting to underscore the often contradictory Republican support for lax gun control while party members avoid open-carry venues for gatherings. One supporter tweeted that the petition was the work of a "wizard-level troll."
All three Republican candidates have spoken out against "gun-free" zones. Donald Trump has vowed that he would "get rid of gun-free zones in schools ... my first day" as president.
Convention administrators were unaware of the petition or of any action being taken to change the status quo. The Secret Service is handling security.
The last time there was a major gun issue at a Republican National Convention was in Tampa, Florida, in 2012, when the Secret Service banned firearms, overruling a state law that blocked the city from "acting to limit guns," the Tampa Tribune reported at the time.