Uber mistakenly charged a man in Toronto, Canada a whopping CA$18,518.50 ($14,415, £18,518) for a short 21-minute, five-mile ride. The outlandish cost of the trip was shared on Twitter after a user named Emily Kennard tweeted a screenshot of the ride's receipt.
"My friend was charged 18K for a 20 Min ride (!), and they are sticking to it. What in the world??? This is insane!" Kennard tweeted on Saturday (9 December).
The Uber receipt was first shared by an Instagram user with the handle "votethehish" who has a private account.
"He could have just bought a car and driven the 20 minutes himself for less," one Twitter user said.
As per Uber's official ride estimate tool, the 8km trip from 12a Widmer St. to 30 The Queensway should ideally cost between CA$12-$16. Even if the rider opted for one of Uber's luxury ride options such as UberBlack or UberSUV, it would still only amount to CA$32-40 or CA$41-49, respectively.
Uber confirmed the erroneous charge and said the rider has been issued a refund.
"There was an error here and it has been resolved," the ride-hailing giant said in a statement. "We have provided a full refund to this rider and apologized to him for this experience. We have safeguards in place to help prevent something like this from happening, and we are working to understand how this occurred."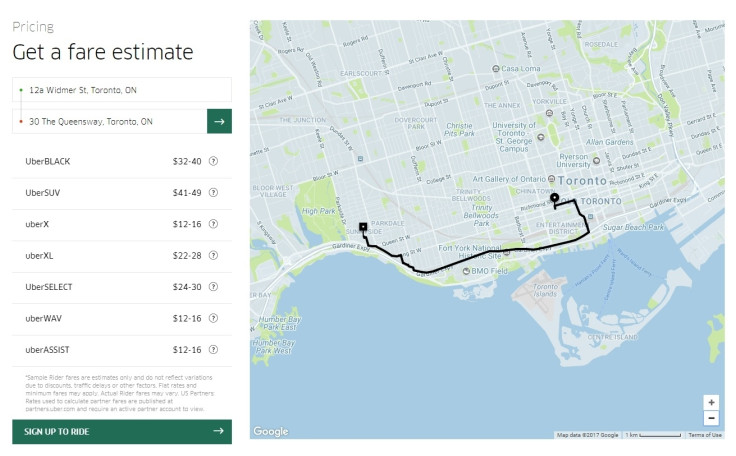 This isn't the first time Uber has charged a customer an exorbitant amount for a seemingly quick ride.
In July, a couple in the US were charged $898 for an Uber ride after attending the Summerfest music festival in Milwaukee that was originally quoted to be $214. Keith and Audra Tubin said they asked the Uber driver to take them to multiple stops but were not informed how much they would add to their bill.
After contacting Uber, the company blamed the bill on surge pricing admitting that it was 8.6 times the normal cost and said the "upfront price is no longer relevant when stops are added."
The incident comes amid a difficult year for Uber during which it was hit with multiple scandals, PR crises, investigations, a major data breach cover-up and company shakeups that eventually led to its founder and CEO Travis Kalanick stepping down.
This week, Uber is heading to court to defend its right to operate in London after the Regulator Transport for London (TfL) stripped the firm of its license to operate in September. The regulator cites its approach to reporting criminal offences and background checks on drivers for its decision.
"We continue having constructive discussions with Transport for London in order to resolve this," an Uber spokesman said. "As our new CEO Dara Khosrowshahi has said, we are determined to make things right."