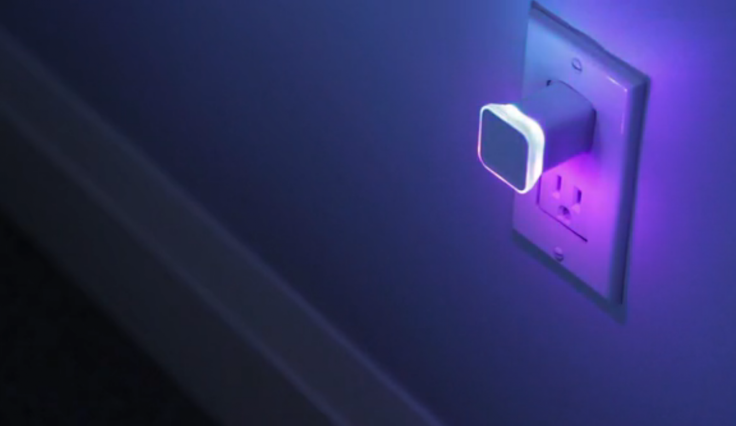 Tired of stubbing your toe or knocking over the lamp on your bedside table while heading to the bathroom in the middle of the night? A new "smart" nightlight aims to help you avoid those painful bruises with its colourful glow whilst notifying you about a few other personal alerts.
Created by the team behind Aumi, a smart nightlight that was funded in 2015, a new Kickstarter project has been launched for the Aumi Mini - a smaller USB-powered nightlight that connects to your WiFi.
The Mini includes IFTTT support and can fit into any USB outlet and trigger alerts for a wide range of things including new emails, social media mentions, the weather, smart lock alerts and the stock market. It even lets you know when your WiFi goes down.
An accompanying app for iOS and Android will allow users to choose the nightlight's colour from about 16 million options as well as adjust the brightness and modes.
The fundraising campaign for the Mini has already raised CA $43,591 (£25,849 ; $33,482) in funding from 456 people in just a week, surging past its original goal of CA$30,000.
"We aren't planning to add any additional features at this time, but we have been collaborating with some outside programmers to help improve our usage scenarios and speed up the launch of the new app + Applets," the developers said. "Basically the higher our funding gets the more we can afford to contract other professionals so we can try and have the Mini's in your hands before our projected dates.
"The final engineering files of the mini are almost complete. We will test a few more 3D prints with our PCB design, but it wont be long until we start tooling. Once we have tooling finished we can start producing some first samples which we will then use for FCC testing. After the FCC, we move in to final production and then fulfillment."
However, some Twitter users people were naturally sceptical about the concept of never being disconnected from the internet, social media and the constant barrage of notifications.
"We are moving in the wrong direction of life on this one," Ryan Wyatt, head of global gaming, content and partnerships at YouTube tweeted.
"Because God forbid you have a moments peace," one Twitter user wrote.