A man who suffered "life-changing" burns after being sprayed in the face with acid while with his cousin believes they were targeted because they are Muslim.
Jameel Muhktar, 37, and aspiring model Resham Khan, 21, were travelling through Beckton, east London, when acid was thrown through the windows of their car.
The unprovoked attack on 21 June left the pair with severe burns to their faces and bodies, with Muhktar placed in an induced coma due to the extent of his injuries.
"It's definitely a hate crime," he told Channel 4 News. "I believe it's something to do with Islamophobia. Maybe he's got it in for Muslims because of the things that have been going on lately.
"I don't know if people are trying to retaliate. We're innocent people. We didn't deserve that. I've never seen this guy in my life. I don't have any problems with anybody. My cousin is 21. She's a business student. Why would anyone do that to us?"
Police have named the still-wanted suspected attacker as John Tomlin, 24, but said they have no information to suggest the assault was racially or religiously motivated.
However, Tomlin's Facebook account includes a post by English and Proud – a far-right Facebook group known for spreading anti-Islam material.
Muhktar said if the roles had been reversed and an Asian man had attacked an English couple with acid, "the whole country knows it would be straight away classed as a terrorism attack".
There's been a significant surge in the number of acid attacks in recent years, figures show. The Metropolitan Police said there were 261 such attacks in 2015, but last year that soared to 454.
The attack against Muhktar and his cousin came as the pair celebrated Khan's 21st birthday and were driving along Tollgate Road, Beckton.
Muhktar described the moment the attacker knocked on the pair's window as the car was stationary.
"I've opened the window, wondering what he wanted – because it was a bit strange that he'd knocked on my window.
"He just squirted this clear liquid over us, which I thought was water until my cousin started to scream. Next thing, I'm burning, my seat's burning, my trainers are burning. [My cousin's] skin is peeling."
Muhktar tried to drive away but crashed the car after being temporarily blinded by the corrosive substance. The pairs' clothes and shoes also began to melt away on their skin, leaving them in "excruciating" pain.
"I've started ripping her clothes off, ripping my own clothes off ... I'm dragging her, she's screaming and crying, i'm screaming. I'm kicking on people's doors, banging on doors [to get help]," Muhktar said, fighting back tears.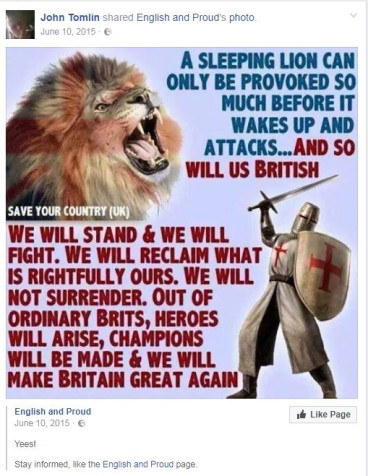 Nearby residents threw buckets of water on the pair in a desperate attempt to wash the acid off, before they were eventually taken to hospital where they were hosed down.
Due to the extent of his injuries, Muhktar was then placed in an induced coma for two days.
Both continue to be treated in hospital. Khan suffered damage to her left eye and required a skin graft, suffering burns on her arms, legs, face and shoulder.
Muhktar also has burns across his body, including his arms, legs, back, neck and the right side of his face, and damage to his right eye.
Describing the excruciating pain he continues to suffer, he said: "I feel like someone's ironing me 24-7."
Police have since released a picture of Tomlin as part of the investigation into the attack.
He is described as a white man, around 6ft tall and of stocky build with short fair hair. He is known to frequent the Canning Town area of east London, police said.
Officers have advised members of the public not to approach Tomlin but to dial 999 immediately if they see him.
Detective Superintendent Neil Matthews said: "I would like to reassure the public that our continued focus remains on finding the person responsible for this horrendous act of violence.
"We will continue to progress these enquiries as quickly as humanly possible and fully understand concerns that they should be brought to justice quickly."
---
Anyone with detail of John Tomlin's whereabouts is asked to call the police non-emergency line on 101, Crimestoppers on 0800 555 111 or by tweeting @MetCC.