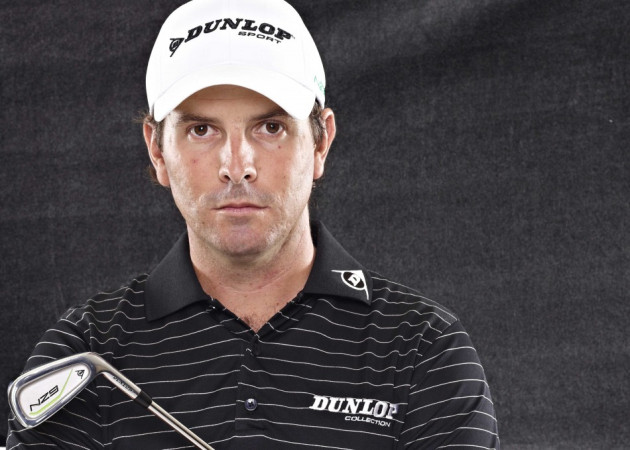 Almost a year on from seeing his fellow South African Ernie Els lift the Claret Jug at Lytham, Thomas Aiken harbours his own personal desires of winning the Open and has every intention of fulfilling that dream at Muirfield.
The 29-year-old is no stranger to mounting his own righteous challenge at Europe's premier major, achieving a seventh place finish in last year's Championship after coming within just three shots of claiming the 2009 title. But for a man who whose directive is to live in the present when out on the green, Aiken believes those memories of past accomplishments will only carry him so far when he steps onto the Muirfield course.
The Johannesburg native has got off to a moderately successful start to his own European campaign, winning his second European Tour title at the Avantha Masters in India in mid-March, a feat which lifted him into the top 20 of the Race to Dubai rankings.
A fourth place finish at the Volvo World Match Play Championship in May, where the South African dismissed the challenge of Ian Poulter en route, has left Aiken prepared for the challenge in Edinburgh.
"It's been a good year so far, an interesting one for me personally on the European tour," Aiken exclusively told IBTimes UK. "I feel I am in a good position on the Race to Dubai.
"Now were are coming into the meaty section of the season and I've got a good run coming up from now until the end of November so there is a lot of golf left, the majority of my events are still to come so I am in a good position to improve on that Dubai ranking at the moment and I hope to get inside that top ten by the end of the season."
The meat of this summer he refers to will come in the form of the 142nd Open, with the gruelling week officially kicking off on the 18July until it's predictably momentous conclusion the following Sunday. After playing the Alstom Open de France last week, Aiken concluded his final preparations for the apex of the summer season at the Scottish Open, adjusting himself to the highland conditions by finishing 71st. But having already tested himself to moderate success at Lytham last year, he is in a confident mood.
"I've never played Muirfield before, I hear it is a really good golf course, a very challenging one, and I am sure it will stand up to the test that an Open course yields," Aiken, who is a full staff Dunlop golfer said.
"The nice thing about Opens is that you rely a lot on accuracy and I feel I have improved a lot on that aspect in the last two years, so I will be working on my short game in the build-up and hopefully get a few places better than seventh last season. My goal is clear, to win the Open."
Aiken's success at the Open has been juxtaposed against the lows that inevitably linger around any professional. After missing the half way cut of the 2011 Open Championship at the Royal St George's Club two years on from his close run challenge in 2009, he responded in valiant fashion last year. With mixed fortunes littered his past outings, finding a balance between drawing on the good times and concentrating on the matter at hand is of crucial significance at the Open.
"I think the most important part of the game is staying in the present," the South African added. "It is never good to dwell on bad things that have happened in the past, but you can reflect on good experiences and I'll definitely be reflecting on those two open experiences in 2009 and last year.
"In 2009 I came within three shots of winning, so it gives you a lot of confidence to know that you are very capable of winning a championship, and I've done in not once but twice (Aiken's 2011 Spanish Open success in addition to his Avantha victory earlier this year), so I have no doubt in my mind that I am capable of winning. It is now just about going out and preparing properly and seeing what Muirfeld is really like.
"Some weeks, some people can hit the ball badly and still have a good putting week and vice versa and soI am looking forward to this week and hopefully the golf course is like Lytham was last year. But irrespective of whether it is or it isn't, I'm going to go out there and play and enjoy myself. It's a great week to play; when you have fun you end up playing well."
With Els looking to replicate his success of last year at Muirfield, the same site of his 2002 Open success, the state of South African golf remains in a prosperous state. As Aiken looks to crash the top ten of the Race to Dubai rankings by the end of the season, he will face the task of tussling with a number of his countrymen who make up a healthy contingent in the top 25.
Joining him in that contingent are Richard Sterne (4), Els (5), Charl Schwartzel (9), Branden Grace (16) and Louis Oosthuizen (20) in the highly competitive ranks, with Aiken hot on his heels in 22nd. The competitive nature amongst his compatriots is what ensures this healthy contingent remains in the upper echelons of the Dubai rankings, Aiken believes, a sense of comradery that is a key reason why so many South Africans have had their names steeped in the history of the sport.
"It could be a very strong couple of years for this south African contingent. We are lucky that we have a have got a lot of very good players, it's in the nature of South African sport. All the sports that we play are extremely competitive, and it is competition that drives people to the next level.
"I was fortunate enough that when I was growing up to play with the likes of Trevor Immelman and Jean Hugo, all these sorts of players who pushed each other to new levels, and if you are competing against these players on a weekly basis, you end up pushing each other up the ranks and becoming some of the best out there."
With final preparations completed, Aiken will be unwavering in his attempt to add his name to the list including Bobby Locke, Gary Player and Els of those to lift the famous Claret Jug.
European Tour Golfer Thomas Aiken is a full staff Dunlop golfer. Dunlop's 2013 golf range is available to buy now from SportsDirect.com
Thomas Aiken finished 7th in last year's British Open and is 200/1 to win this year and 13/1 for a top ten finish with 888sport.com