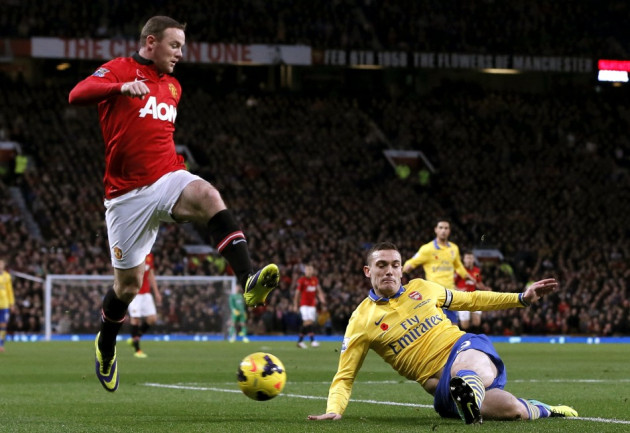 Arsenal club captain Thomas Vermaelen has dismissed suggestions he may leave north London after being marginalised from the Gunners first team this season.
The Belgian defender made just his first league start of the season in place of the ill Per Mertesacker against Manchester United but couldn't prevent Robin van Persie netting the winner at Old Trafford.
Vermaelen suffered from a back injury in pre-season missing the start of the campaign until featuring in the League Cup win over West Bromwich Albion and the defeat to Chelsea in the same competition, with Mertesacker and Frenchman Laurent Koscielny the mainstay of the Arsenal back four.
But the 27 year old, who has less than two years to run on his current deal, is not worried by his peripheral role and wants to remain at Arsenal.
"At the moment there is no story," said Vermaelen. "I'm not talking about it. It's now November but any moment things can happen. If they do, I'm ready and I'm not thinking about anything else.
"I can keep talking about my situation. I've done that with the national team and I keep on reading stories that I want to leave. But that's not the case.
"I'm still focused on the team at the moment and that's what I want to do. I'm always positive. What I have said is that it is not about my situation but what the team do and I'm really happy that we're top of the League.
"Personally I'm still confident I can play for this club and every chance I get I will do a job for this club."
The Arsenal centre back had previously stated that he would consider his position at the club in the January transfer window if his lack of opportunities continued.
Since joining the club in 2009, Vermaelen had been first choice in the Arsenal back four but an uncertain 2012/13 campaign, coupled with injury problems have seen his chance curtailed.
The Belgium vice-captain is expected to travel to next year's World Cup regardless of his first team chances this season but is unlikely to remain content playing second fiddle at the Emirates.