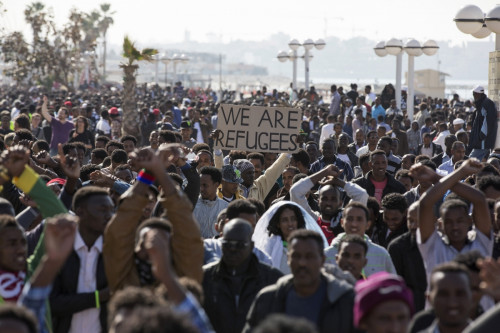 Thousands of African migrants took to the streets for the second consecutive day in Israel to protest against its government's asylum policy.
About 10,000 people marched up to the embassies of the United States and a number of other counties including Britain, Germany, France and Italy in Tel Aviv as part of a three-day strike.
"We arrived in Israel seeking asylum and we want the Israeli government to check our asylum request in a transparent way," Dawit Domuz from Eritrea told Israel Radio.
"They should grant us basic rights until we can return to our countries."
The asylum seekers are calling for official refugee status, saying they face persecution at home.
They have also demanded the right to work and to move about without restriction, pending the application process. They are angry about the Israeli government's policy of holding illegal migrants for long periods without a trial in the new Holot detention facility in the Negev desert in southern Israel.
The UN has severely criticised Israel's immigration policies.
"The current policy and practices create fear and chaos amongst asylum seekers, not taking into account their specific situation," the United Nations High Commissioner for Refugees (UNHCR) said.
"I am particularly disquieted about the purpose of the so-called 'open' residence facility in Holot which, in its current form and despite its designation as 'open,' would appear to operate as a detention centre from where there is no release," UNHCR representative Walpurga Englbrecht said.
"This means in effect indefinite detention."
Israel has erected a fence along the 130-mile (220-kilometer) Egyptian border to block influx from Africa.
Supporters of strict immigration policies blame migrants for thefts and violent crimes and claim their increasing number threatens Israel's Jewish identity
Some also argue that Egypt should not grant migrants asylum in the first place as many cross into Israel from there.
"They are not refugees," Tel Aviv deputy mayor Arnon Giladi told Israel Radio. "They are economic migrants, they are not more than that."