Tens of thousands of Cubans attended a rally on 3 December to pay their last respects to Fidel Castro in the city of Santiago. In a ceremony attended by leaders and dignitaries from around the world, Cuban President Raul Castro vowed to uphold his late brother's socialist principles.
He announced that no public monuments would be named after Fidel Castro in keeping with the late revolutionary leader's desire to avoid the creation of a cult of personality.
Earlier in the day, a convoy carrying Castro's ashes arrived in Santiago following a four-day, 900km (560 miles) funeral procession across the country.
His ashes will be interred near the remains of Cuban independence leader Jose Marti in a ceremony beginning at 7am local time (12pm GMT) on 4 December.
The iconic leader died at the age of 90 on 25 November after a long battle with illness.
"This is the unconquered Fidel who calls us with his example," Raul Castro, 85, was quoted as saying by Reuters.
"Yes, we will overcome any obstacle, turmoil or threat in the building of socialism in Cuba.
"In the unipolar world, the one of transnationals that arose after the fall of the socialist bloc, the permanent lesson of Fidel is that, yes, it can be done, man is capable of overcoming the most difficult conditions."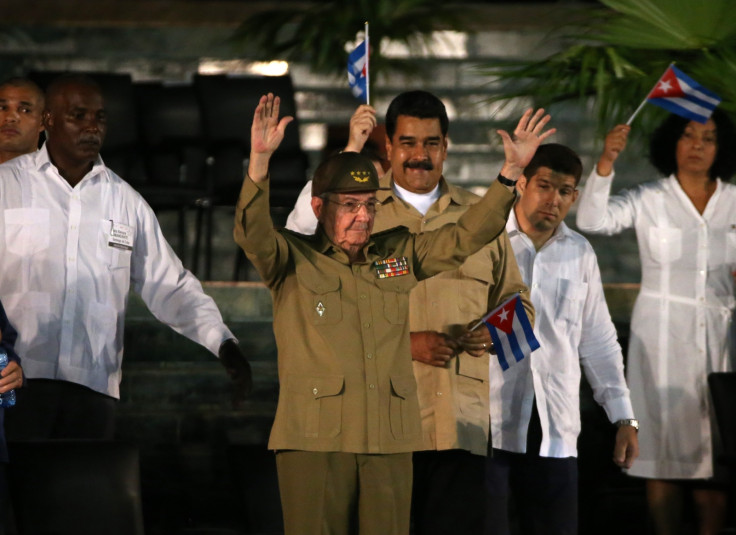 The leaders of Bolivia, Nicaragua, Venezuela and Argentine football legend Diego Maradona were among those in attendance at the ceremony.
"I will miss his affection, his recommendations, his education," Bolivian President Evo Morales was reported as saying.
Castro rose to power in Cuba in January 1959 at the culmination of a successful guerrilla campaign against US-backed dictator Fulgencio Batista. He set up a one-party socialist state in the country and formed a close alliance with the Soviet Union.
The firebrand leader survived numerous attempts by the US to remove him from power by assassination, economic blockade and counter-revolution, including the failed Bay of Pigs invasion in 1961.
He played a central role in the Cuban Missile Crisis of 1962, when the Cold War came closest to escalating into a full-scale nuclear war. Castro went on to rule Cuba for nearly half a century until illness forced him to resign and hand over the reins to his younger brother Raul in 2008.