Hundreds of thousands of Catalans protested on the region's National Day, Diada, to claim independence from Spain. Protesters demonstrated in cities like Salt, Berga, Lieida, Tarragona and Barcelona, the cosmopolitan capital of Spain's Catalonia region on Sunday (11 September).
According to reports, around 800,000 people had participated in the protest waving red and yellow striped Catalan flags; however, Spain's central government, which intensely opposes the independence, claimed the number was around 370,000.
Jordi Cuixart, the President of Omnium Cultural, one of the main civil society organisations behind the massive pro-independence demonstrations held since 2012, said during the protest that the cause "was started by its people and it is going to be finished by its people."
"We don't go against anybody; our cause is freedom and a better future for our children. Our republic is that of fraternity, since we are a nation of tolerance, welcome and respect.
"We defend our health system, our right to live in a country in which investment is fulfilled and where refugees could find comprehension. Thousands of Catalans of all origins claim together, that this is a matter of democracy," Cuixart added.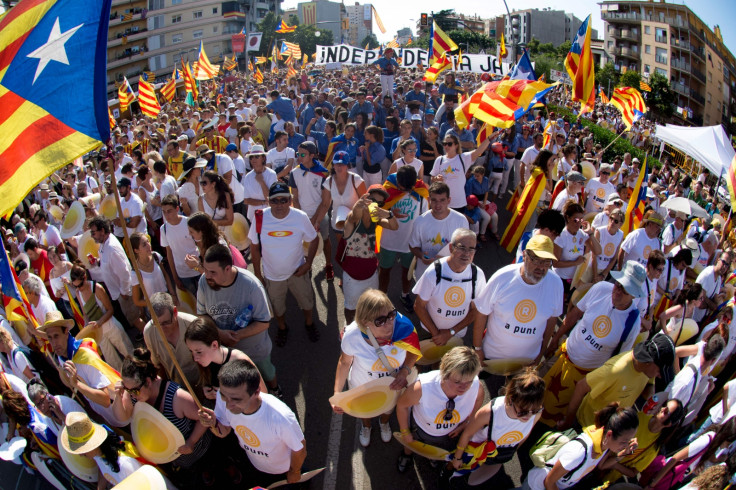 Attending the protest in Salt, Catalan President Carles Puigdemont said, "It is not possible to rule Spain without Catalonia and that the solution to Catalonia's demands will be achieved by politics rather than by using the Court."
"Today Catalonia made history once again not only before its fellow citizens, which have proved that far from being tired they are highly motivated, but also before the world. This is the fifth time in a row that this country has acted in this way, and the time has come for those who have to take note of it to do so," Puigdemont stated.
"We will stand here until the end", he asserted.
For years, Catalan separatists had tried in vain to win approval from Spain's central government to hold an independence referendum. However, interestingly in 2015 after winning a clear majority in Catalonia's regional parliament for the first time, secessionist parties approved a plan to achieve independence in mid-2017.
But it proved ineffective in June when president Puigdemont's coalition government lost the support of the small anti-capitalist party Popular Unity Candidacy (CUP), which has the hardest line on independence.