Thousands take to streets as Asian-American cop Peter Liang found guilty of manslaughter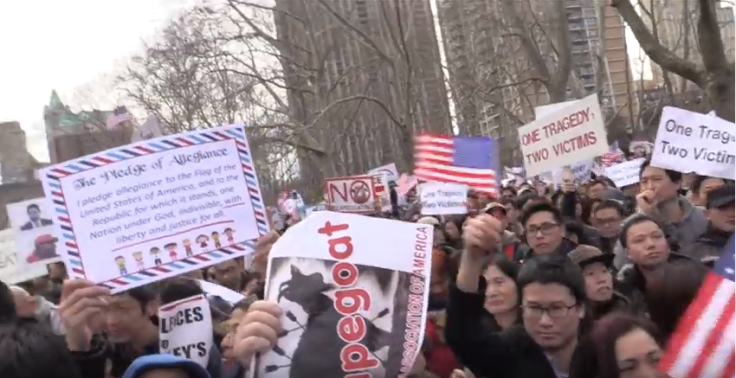 Thousands of Asian-Americans have taken to the streets to protest the guilty verdict of police officer Peter Liang, who shot and killed an unarmed black man in New York in November 2014.
The manslaughter verdict was the first in more than a decade for a New York police officer, and heightened racial tensions in the city, where the Black Lives Matter movement demanded justice for the deceased, Akai Gurley, and the Chinese American community claimed Liang was victimised because of his race.
On 21 February, protests took place across 30 cities in the US, with thousands of people gathering in Brooklyn chanting 'scapegoat' and demanding to know why Liang had been prosecuted for something that 'a lot of white officers' had been found innocent of, NBC News reported.
There was also a counter protest held in New York by members and supporters of Black Lives Matter, who held signs reading 'jail killer cops'.
Across the country thousands demonstrated in solidarity with the 15,000 people in Brooklyn, protesting what they saw as the racist verdict against 28-year-old Liang, who could be facing between five and 15 years in prison and was sacked following the verdict.
"A lot of white officers have also killed people," Zhang Yuan at the Brooklyn rally, told NBC News. "Why don't they prosecute them? Why only Peter? It's not fair."
The demonstrators held a minute's silence for victim Gurley at the beginning of the rally, with many keen to state the incident was tragic for both Gurley and Liang's families.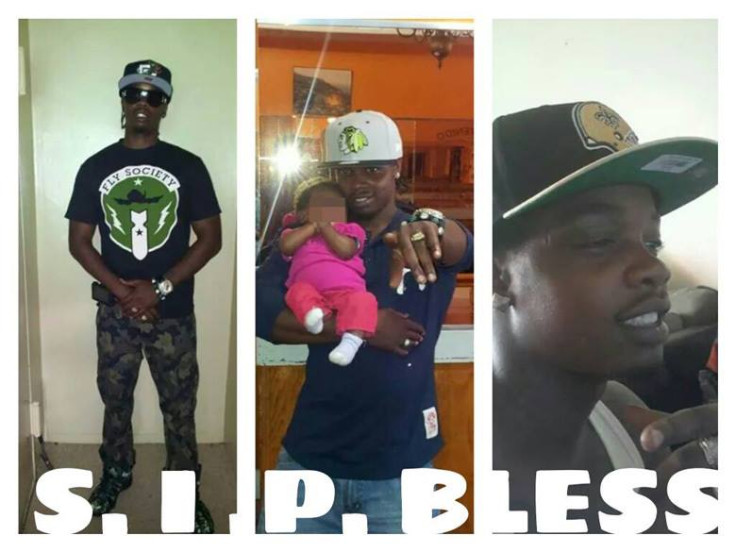 The protests that followed Liang's guilty verdict on 11 February mirror those held following the death of victim 28-year-old Gurley, in which hundreds of people descended on Brooklyn police station chanting "NYPD, KKK, how many kids you kill today?".
A petition, which has been signed by more than 123,000 people was also started following the verdict, demanding that Brooklyn District Attorney Kenneth P Thompson withdraw the indictment against Peter Liang. It read: "NYPD Officer, Peter Liang told his superiors that his gun had gone off unintentionally, the bullet rattling off a wall and into an unsuspecting man's chest, killing Akai Gurley.
"Nonetheless, the circumstances surrounding Mr. Gurley's death lead to a manslaughter indictment this week, whereas police officers in the Michael Brown and Eric Garner case were never charged. Criminal charges appeared more likely in the later two cases, but these two non-Asian Police Officers were never charged."
However Asian Americans United said people should be attempting to change the system, not protesting the innocence of Liang.
In a statement on Facebook, the organisation said; "Asian Americans United has for three decades stood for full police accountability and against the injustice of the police system that systematically targets black and brown communities. We have heard the call from members of the Chinese community to support Officer Liang. We have heard cries of outrage that Officer Liang was indicted while other white officers across the country have faced absolutely no consequences for the murders of Black people time and time again.
"However, we believe that the call we, as Asian and Asian Americans, need to be making is not for the minimizing of Officer Liang's sentence in response, but for the full indictment of ALL police and vigilantes that commit these heinous crimes against the Black community.
"These are not individual incidents. This is a systemic issue, but this doesn't mean we do not hold these officers accountable for their actions. We must both hold each officer accountable and fight to change the system that trains officers to target black and brown communities, an institution that trains officers to shoot first, followed by a criminal justice system that systematically lets these officers go – scot-free.
"We must not forget the victim here – a 28-year-old father, a son, a community member, who lost his life as a result of this system, at the hands of Officer Liang."
© Copyright IBTimes 2023. All rights reserved.