US: Several Black Lives Matter protesters arrested at Mall of America and Minnesota airport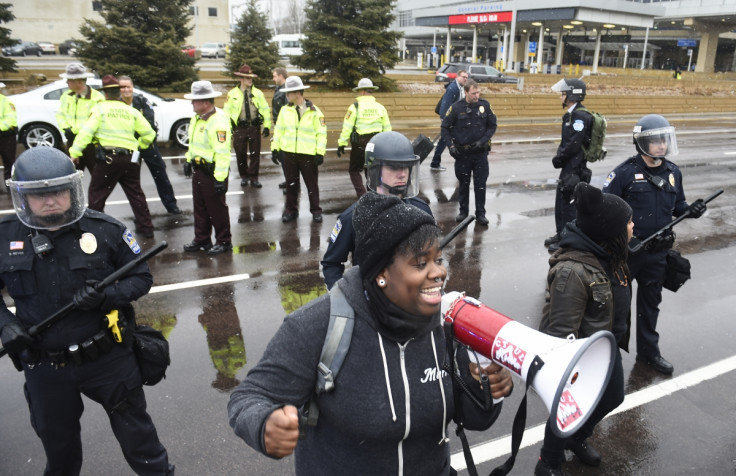 Black Lives Matter protesters held demonstrations, dubbed "Black Xmas," on 23 December to protest police killings of unarmed black people in the US. The demonstrations, held in Minnesota, led to several arrests at the Mall of America and the Minneapolis-St Paul International Airport.
"Black communities across the United States are taking brave actions to impede the flow of goods and commerce with peaceful protests to call for an immediate overhaul of the justice system," Black Lives Matter wrote on Facebook. "There will be no business as usual until we get accountability for our dead, and justice for the living...Instead of buying gifts to fuel this system, Black Xmas is a day of action."
According to Reuters, the demonstration at the Mall of America fueled by frustration and anger over the police shooting of an unarmed black man in Minneapolis in November was quickly dispersed. On 15 November, police shot and killed 24-year-old Jamar Clark, leading to almost three weeks of protests outside a Minneapolis police station by Black Lives Matter.
"It's been sleepless nights," Clark's cousin, Alexander Clark, said at the mall protest before being taken into police custody. "We are here for justice for my cousin." Reuters reported it was not immediately clear if he was formally arrested. Around 100 people congregated at the mall, despite warnings from a judge that the owners could legally block the protest.
According to ABC News, protesters gathered around 2.30pm local time and were met by officers who informed them they were not allowed to demonstrate at the mall. Police and mall security swiftly cleared the area, with mall officials confirming Bloomington police arrested four people. Bloomington Police said that three were arrested for trespassing and the fourth was arrested for trespassing and disorderly conduct.
After the mall demonstration was cleared, protesters headed to Minneapolis-St Paul International Airport. An airport spokesman confirmed that protesters managed to shut down roadways to both of the airport's terminals. Reuters reported that security checkpoints in Terminal 2 were briefly shut down to prevent demonstrators from moving into secure areas.
Airport spokesman Patrick Hogan told The Associated Press that over 100 protesters gathered in and around the airport, leading to two security checkpoints shutting down for around 45 minutes. The demonstrations caused some flight delays but no cancellations. Police confirmed that a total of 15 people were arrested at the mall and the airport.
© Copyright IBTimes 2023. All rights reserved.