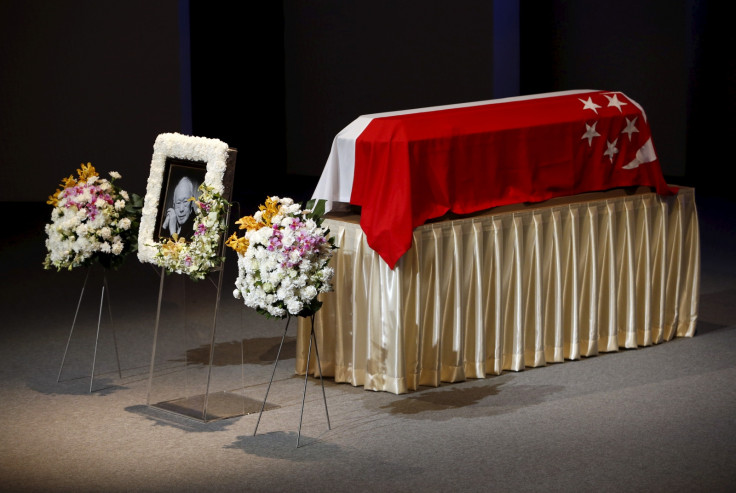 Tens of thousands of mourners stood in torrential rain to view the state funeral procession carrying Lee Kuan Yew's coffin through Singapore's streets.
Lee's coffin was draped in Singapore's red-and-white national flag and encased in a glass case, pulled by a two-wheeled gun carriage, according to an AFP report.
Thousands of black-clad mourners shouted and wept: "Thank you Mr Lee", "Goodbye", "Take care", and a word from Lee's speech 50 years ago declaring Singapore's independence: "Merdeka", meaning "free" in Malay.
Four F-16 fighters from the air force's Black Knights aerobatic team performed a fly-past. Two Singaporean navy vessels conducted a sail- past of the Marina Bay barrage – a conservation water project masterminded by Mr Lee.
A 21-gun salute echoed across the city as the procession moved into the business district and Tanong Pagar, the docklands constituency, which Lee represented during his political lifetime.
In his eulogy, Lee's son, the current Prime Minister Lee Hsien Loong, said his father had "lived and breathed Singapore all his life".
"The light that has guided us all these years has been extinguished," he said.
Lee said that although his father had not lived to see Singapore's 50th anniversary celebrations later this year, the country could be proud he had "lived to see his life's work come to fruition".
He added: "To those who seek Mr Lee Kuan Yew's monument, Singaporeans can reply proudly: 'look around you'," he said.
Foreign leaders in attendance included former US President Bill Clinton, Indian Prime Minister Narendra Modi, Indonesian President Joko Widodo, Japanese Prime Minister Shinzo Abe, Australian Prime Minister Tony Abbott and UK House of Commons leader William Hague.