Mourners in Singapore, hoping for a glimpse of former leader Lee Kuan Yew's coffin, are being urged to stay away as waiting times reach 10 hours.
The government said it "strongly advises" the public not to join the sprawling queue and to instead visit community tribute sites set up across the island.
As of late morning on 27 March, some 230,000 people had viewed Lee's coffin at Parliament House, the government said. The queue – several kilometres long – starts at the Padang, an open field in downtown Singapore, crosses a park and snakes along the Singapore River to Parliament House.
Dozens of tents have been erected in the Padang to shelter mourners from the tropical sun and government workers handed out water and umbrellas.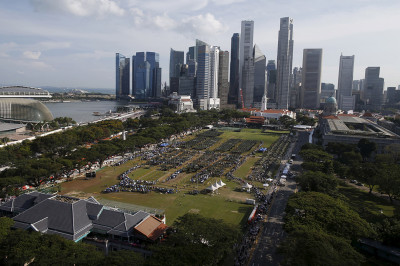 Lee's death at the age of 91 on 23 March has been met with a huge outpouring of grief. Lee was Singapore's prime minister for 31 years, ruling until 1990 and is regarded by Singaporeans as the architect of the country's economic success.
Foreign leaders and dignitaries expected at Lee's funeral on 29 March will include Japan's Prime Minister Shinzo Abe and former US President Bill Clinton.