Three men have been jailed for running a vast underground cannabis farm in a former Cold War nuclear bunker in Wiltshire.
Martin Fillery, 45, Ross Winter, 30, and Plamen Nguyen, 27, pleaded guilty to conspiracy to produce class B drugs.
They also admitted illegally abstracting electricity to power the huge operation at RGHQ Chilmark, a decommissioned Ministry of Defence (MoD) bunker.
Fillery, of Pedwell Hill, Ashcott, Bridgwater, was sentenced to eight years at Salisbury Crown Court on Friday (11 August).
Winter, of Maytree Avenue, Bristol, and Nguyen, of Bartholomews Square, Horfield, Bristol, were each jailed for five years.
The court heard how Fillery leased the bunker in 2013, initially using it to store television memorabilia including numerous Daleks from the popular BBC TV show Doctor Who.
In the same year he then transformed it into what Wiltshire Police said was the largest cannabis farm it had ever encountered.
The mammoth grow operation was understood to be capable of producing £2m of cannabis every year, with almost every one of the building's 20 large rooms – split over two floors – converted for production of the drug.
At the height of the operation the trio employed a group of four "gardeners" to live in the bunker and tend to the crops round the clock.
Police estimate that £650,000 of electricity was siphoned off illegally from a nearby pylon to power the grow.
Police carried out a midnight raid on the facility on 22 February following a tip off from dog walkers who noticed a strange smell coming from the bunker.
While the site is no longer owned by the MoD, the bunker's impenetrable five-inch nuclear blast doors were still in operation and meant officers were unable to gain entry.
They instead waited in the dead of night for three men to leave the site, detaining them and using their keys to open the facility's doors.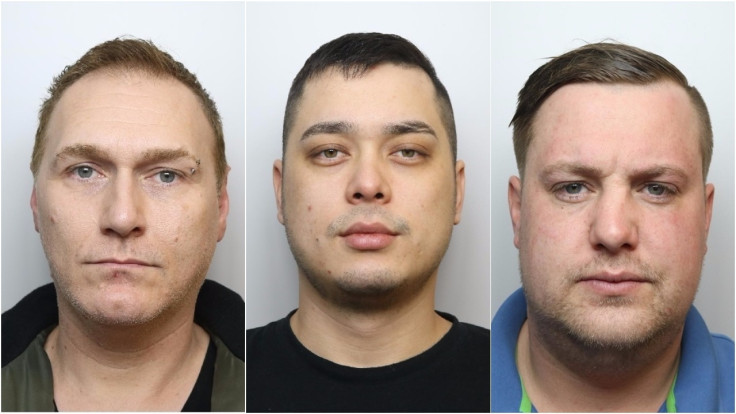 Inside officers found more than 4,000 cannabis plants and a sophisticated set up composing of hundreds of lights and fans. It allowed for a crop to be harvested every six weeks.
Police believe it was staffed by Vietnamese men who were working in slave-like conditions.
Two young Vietnamese men, thought to be teenagers, and a Vietnamese man aged in his 30s were found inside the bunker during the raid.
A fourth young Vietnamese man was also found the following day wandering along country lanes near the Wiltshire village of Tisbury. Police believe he had managed to escape the bunker by cutting his way through a ventilation shaft in the roof, the Guardian reported.
Det Insp Paul Franklin told the Guardian: "It was slavery. There's no doubt. They weren't there by choice. They were trafficked from Vietnam, they were placed there and told to work."
The defendants initially faced charges of conspiring to hold another person in slavery/servitude but the charges were dropped due to lack of evidence, police said.