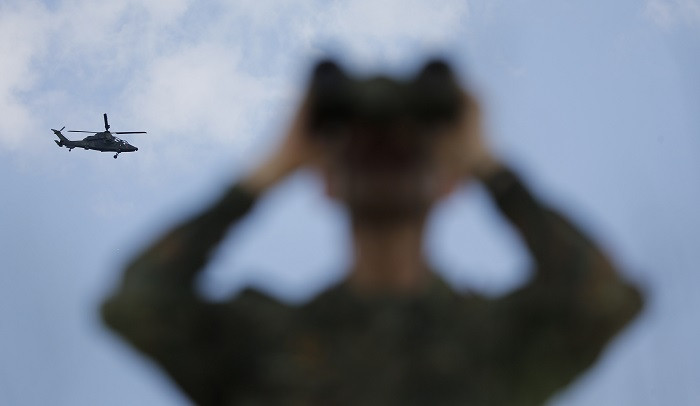 Three Canadian prisoners have escaped from detention in Quebec in a daring helicopter jailbreak.
The helicopter swooped down on Osainville Dentention Centre near Quebec City on Saturday and flew off with the prisoners to the west, possibly towards Montreal, police said.
The escaped prisoners were being held pending trial, and have been named as Yves Denis, 35, Denis Lefebvre, 53, and Serge Pomerleau, 49.
Two of the men were detained by provincial police in 2010 after a drugs bust, codenamed Project Crayfish, which led to dozens of arrests.
Police released photos of the three men on social media and appealed to the public for help in searching for them. Authorities warned the public not to approach the men if they encounter them, but to contact the police immediately.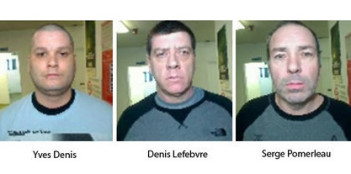 Police spokeswoman Audrey-Anne Bilodeau said authorities are working with local airports in Quebec City and surrounding areas, as well as military bases, in the search for the prisoners.
A ground search is also being conducted to locate the helicopter.
The jailbreak is the second involving a helicopter to occur in Quebec province in just over a year. In March 2013, two inmates escaped from a prison in Saint-Jérôme, a suburb of Montreal, by climbing up a rope ladder into a hovering helicopter.
The two escapees, along with the two men accused of hijacking the helicopter, were picked up by police around 85km (50 miles) away in Mont-Tremblant within hours of the escape.
The Orsainville Dentention Centre is located about 10km from the centre of Quebec City and can hold up to 710 offenders.
In 2010, it was the scene of a fire and a violent brawl in which two inmates died and another six were injured and taken to hospital. In February 2008, the prison was the scene of another riot which was apparently prompted by a smoking ban.