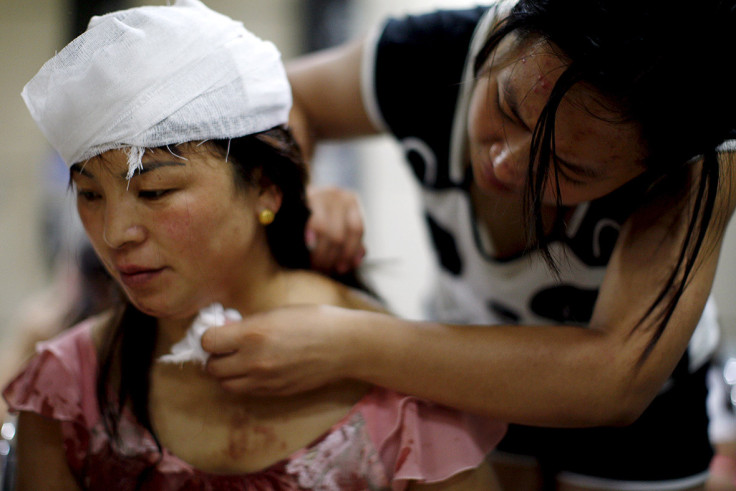 Hospitals in the Chinese port of Tianjin are struggling to cope with casualties as the death toll continues to rise from two massive explosions which rocked the city's vast industrial district late last night.
Official figures from an emergency response centre have now put the dead at 50, according to Xinhua news agency, with 701 admitted to hospitals with injuries. Of those 71 are said to be in critical condition.
Fire crews struggled to contain blazes which burned in Tianjin following the blasts. The Chinese People's Daily reported 143 engines and 1,000 firefighters had been brought into quell the fires.
Twelve firefighters were reported killed while battling the flames. A further 36 are now believed to be missing.
Chinese President Xi Jinping, who earlier called for a full effort from authorities to rescue and treat the injured, has called for an investigation into the causes of the blast.
Police have now arrested the head Tianjin Dongjiang Port Rui Hai International Logistics, which owns the shipping terminal for a company that transports hazardous cargo.
The first blast in Tianjin's Binhai New Area, a vast industrial area, occurred at 11:30pm local time on Wednesday (12 August). Initial reports claimed the first blast was caused by industrial explosives. The explosion, which was equivalent to the explosion of three tonnes of TNT, then triggered a larger, secondary blast, seven times bigger, which ripped through a chemical warehouse.
The impact of the explosion, which sent a massive fireball high into the night sky and engulfed nearby buildings in flame, smashed windows in buildings and threw rocks and other debris into the air for miles around.
A video posted on YouTube showed the carnage in the city with a population of 15 million as the chemical factory exploded. One man could be heard to say in the background: "Our building is shaking. Is this an atomic bomb?"
The impact of the blasts could be felt several kilometres away, and was detected by a US Geological Survey monitoring unit in Beijing 160km (100 miles) away.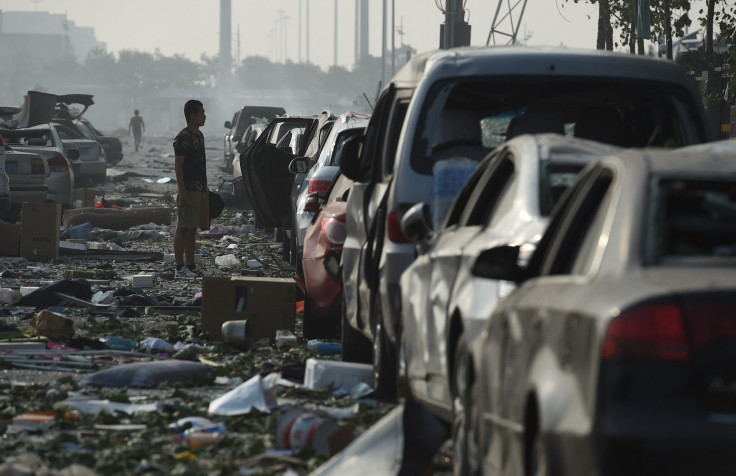 Speaking in Beijing on a visit to China, British foreign secretary Philip Hammond said: "I express my deep condolences for the tragic loss of life and the hundreds injured in the Tianjin explosions.
"I was in this vibrant city, meeting local workers at the Airbus factory, just hours before the explosions happened and pay tribute to Tianjin emergency workers who have been fighting fires and treating casualties.
"I have conveyed Britain's condolences to senior Chinese ministers and our embassy in Beijing is in touch with relevant national and local authorities.
"There are no reports so far of any British injured but consular staff are working urgently to establish whether any have been caught up in this terrible incident."