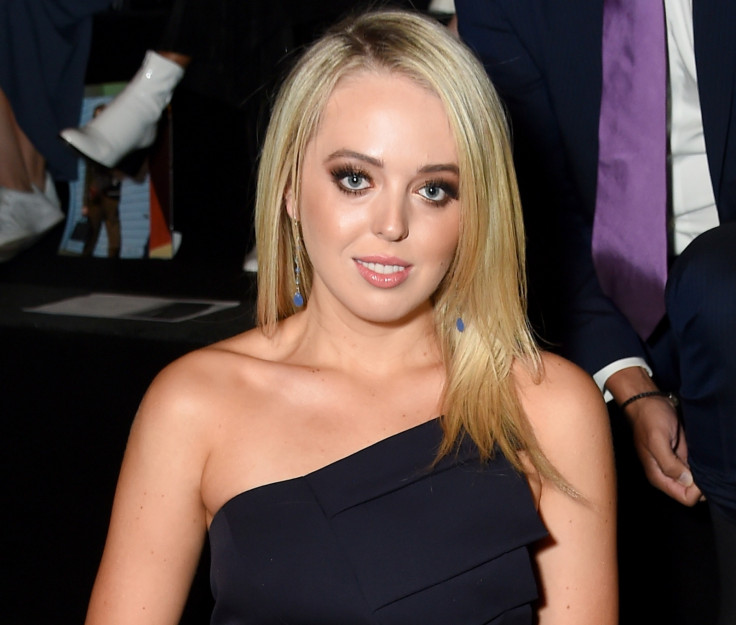 Following her decision to kick off the New Year at a star-studded Playboy bash in Los Angles, Tiffany Trump has flown to Sin City for very important business.
Donald Trump and Marla Maples' 24-year-old daughter played the role of sexy flower girl at her friend's Las Vegas wedding.
For the ceremony, held at A Little White Wedding Chapel, the first daughter wore a skin-tight black dress and towering heels.
In a video shared on Instagram , she can be seen sprinkling rose petals from a Tiffany & Co bag at the nuptials of reality star Peter Carey "PC" Peterson and Esme Brown.
The caption read "Married off two of my oldest friends so much love for you both and so happy to have been here for this most classic of shotgun weddings! Wishing you both all the happiness in the world @pcpnyc@quentinesmebrown."
Tiffany's Secret Service detail looks on as the Georgetown Law University student walks down the aisle to celebrate her friends' union. Once she reached the altar, she lets more pink rose petals fly.
A quick scan of social media and fans are not sure what to make of the whole thing with one person asking "Is this a joke??".
According to the bride, who is the daughter of late Hamptons real estate developer Harry Joe Brown Jr, the newlyweds have "never had sex" but wanted to tie the knot to celebrate their "pure friendship" with a shotgun wedding.
"Unconventional, yet unconditional," Brown captioned a snap of her and her new husband taken after the ceremony. "Married to my best friend. My soulmate. The person who never turned his back on me and vice versa. We have one life. Free yourself! P.S. We have never had sex. It's pure friendship."
When she wasn't on flower girl duty, Tiffany found time to attend Andrew Warren's birthday bash where she partied with fellow rich kids EJ Johnson, Peter Brant Jr., Reya Benitez and Abigail Breslin.