A Malaysian court sentenced 29-year-old Mohd Nor Shahrizam Nasir to a 60-month prison term, for the illegal possession of tiger parts and ivory (from African elephants). Specifically, Nasir has been found guilty on two charges of possession of tiger parts and one for the ivory. However, because the sentences are viewed as concurrent, his effective jail term is only two years.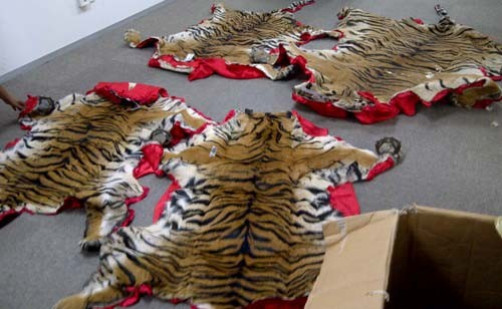 TRAFFIC, the wildlife trade monitoring network, has registered its concern at the lenient sentencing and is particularly worried that the period of the sentence contradicts existing laws.
"This is shocking given that the mandatory fine is explicitly stated in the Act [Wildlife Conservation Act of 2010]. It is also disappointing considering it has taken 13 years of hard work and the effort of so many to include a punitive minimum fine for heinous wildlife crimes," the regional director for TRAFFIC's southeast Asia operations, Dr William Schaedla, said.
The illegal poaching haul in question was seized in February last year, by the Malaysian Department of Wildlife and National Park. It constituted eight tiger skins, 22 bags of tiger skulls and bones, and nine African elephants' tusks.
And under existing laws, an individual found guilty of possessing tiger parts faces a mandatory fine of not less than RM100,000 (approximately £5,000) and not more than RM500,000 (approximately £20,000). In addition, s/he faces a jail term not exceeding five years.
No fine has been levied on Nasir. TRAFFIC called the entire sentence a "demoralising finale to what should have been a victory against wildlife crime".
As of now, Nasir's sentence has been stayed pending an appeal and he can leave the prison on bail for RM80,000 (approximately £4,000).
This isn't the first time in recent years that the Malaysian judicial system has been lenient on convicted smugglers of illegal animal parts and those engaging in the illegal trade of endangered species.
In September 2011, Anson Wong was convicted of smuggling 95 boa constrictors, two rhinoceros vipers and a Mata Mata turtle on a flight from Penang to Jakarta. The Sepang Magistrate's Court sentenced Wong to six months in jail and imposed a RM190,000 (approximately £9,500) fine. The fine was set aside on appeal to the High Court but his sentence increased to five years. Tragically, in February 2012, a Court of Appeal reduced that term to 17-and-a-half months, which meant he had already served his term; dated from 7 September, 2010.
More recently, in December, Malaysian authorities impounded 1,500 elephant tusks found in a shipment of timber meant for China. The Guardian estimated the haul was worth £12m and weighed between 20 and 24 tonnes.