World No.1 Tiger Woods capitalised on Sergio Garcia's back-nine meltdown to record his fourth victory of 2013 at the Players' Championship at Sawgrass.
The pair shared the lead after 54 holes with Swede David Lingmerth, and the often referred to fifth major looked set for a play-off with two holes remaining, but Garcia found the water twice at the 17th.
A double bogey followed before he found the hazard at 18 once again to allow Woods to snatch victory by two-shots with a fourth round of 70, avoiding a play-off after Lingmerth missed a birdie putt on 17.
Woods' victory caps a tempestuous week between himself and Garcia, after controversy during the third round when the Spaniard accused the 37-year-old of distracting him prior to his approach to the 2nd. Garcia came away with a bogey, while Woods, initially caught in the trees, made birdie.
And his meltdown on the 17th and 18th on Sunday suggested the episode with Woods 24 hours previously was still affecting his judgement, and Garcia admitted the incident worked as a distraction.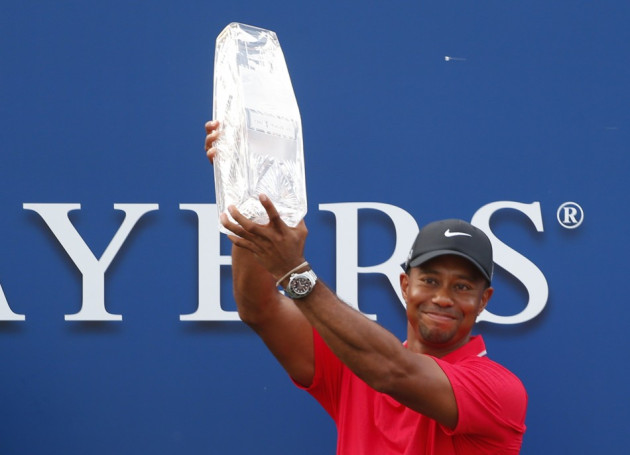 "I'm not going to blame it [finding the water twice at 17] on that," said Garcia. "That happened one hole, and obviously everybody saw what happened and that's it.
"Was it a distraction? Maybe a little bit. But I mean, it really distracted me at that time, then after that you kind of move on and you try to figure things out.
"You want to win every tournament you play on. Sometimes you do, sometimes you don't. And you want to beat everybody in that field, and if he's [Woods] in that field obviously you want to beat him.
"It's always nice to have a chance at beating the No 1 player in the world, but unfortunately for me I wasn't able to this week.
"It sounds like I was the bad guy here. I was the victim. You know, I don't have any regrets of anything."
Woods meanwhile, who was tied for fourth at last month's Augusta Masters, maintains his No.1 ranking after his 78th tour victory, and his fourth in seven outings this year.
"It was a tough battle," said Woods "I felt like I was in control of it after I birdied 12 and gave it right back at 14 with a double," said Woods
"It was game on and anybody could win the golf tournament."