The two candidates from opposite sides of the political spectrum are head to head in the polls in the Austrian presidential election.
Far-right, Freedom Party candidate Norbert Hofer was slightly ahead in the polls before a debate on 20 November, after which left-wing politician Alexander Van der Bellen recovered some ground and the vote on Sunday 4 December is expected to be another tight one.
Van der Bellen was briefly proclaimed winner of the election in May. In an unexpected turn, Hofer's Freedom Party contested the result, claiming widespread irregularities and in July, Austria's Constitutional Court ordered a rerun of the election. Originally rescheduled for October, it was pushed back to December, after the discovery of irregularities with the absentee ballots, which could not be sealed properly.
The two candidates have been battling for the largely ceremonial office for almost a year due to a vote tainted with controversy. The result will be seen as a measure of popularity for Europe's far right parties, after the Brexit vote in the UK and ahead of key elections in the Netherlands, France and Germany next year.
Both candidates centred their campaigns around the idea of what is best for their country. "Your country needs you" says one of Hofer's campaign poster, addressing the voters directly. "We want our Austria back," Hofer has also said along the campaign trail. "Who loves their country does not want to divide it", reads one of Van der Bellen's posters, whose campaign message focused on impartiality and unity in face of his opponents anti-immigration, anti-Islam and Eurosceptic rhetoric.
Despite the radical views held by his party, which was founded by Nazi sympathisers in the 1950s and has been at the fringes of Austrian politics until recently, Hofer presents a respectable face and a ready smile. He is seen as a candidate that can adapt his style to suit different audiences, from a moderate message to undecided voters to more radical views addressing core party supporters. The 45-year-old engineer is often seen walking with the aid of a stick after a paragliding accident in 2003 left him with difficulties in walking.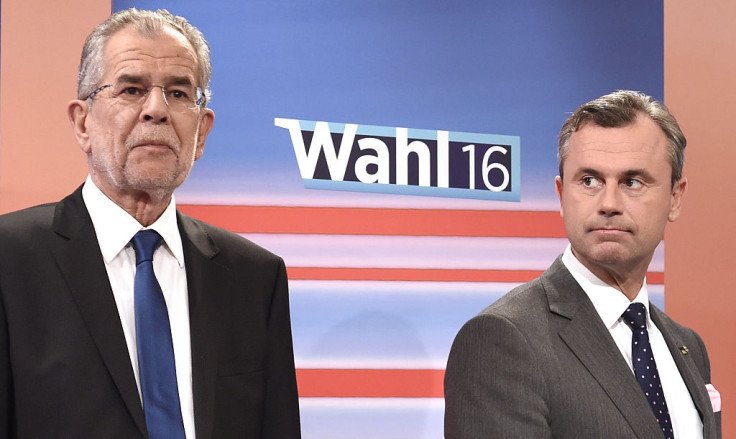 Van der Bellen is running as an independent but is supported by the Green Party, of which he has been a member since 1992, after he moved there from the Social-Democratic party. The economics professor has a more cosmopolitan background than Hofer, who is born out of Austrian parents. Van der Bellen's mother was Estonian and his father was Russian of mixed Baltic German, Dutch, and Estonian descent. His parents had fled from the Soviet-occupied Estonia to the then German Reich in 1941, where Van der Bellen, privately nicknamed "Sascha", the Russian diminutive of Alexander, was born in 1944 Vienna.
Van der Bellen's liberal outlook on migrant policies and strong support of European Union's institutions could not place him further away from Hofer's vision for Austria. Speaking to IBTimes UK, professor Matthew Goodwin, a senior fellow at Chatham House and an expert on European populism, said, "I think the Austrian presidential election is absolutely fascinating because in a way it represents so much of what we're learning about populism in Europe.
"Hofer's placement as a presidential candidate for the Freedom Party in the final round versus a Green candidate in the final round really is a nice, albeit some might say worrying, example of just how polarised our politics is quickly becoming," he added.
LGBT-icon and Eurovision song contest winner Conchita Wurst weighed in the discussion about polarising views of the country in a video recorded on 27 November. "[This election] is about setting a direction, a direction for many years to come. The direction in which Austria will develop its future," she said, pinning the vision of a cosmopolitan, open-minded country, against that of an isolated, right-wing nationalist one. "Let's show we are unstoppable on our way to a more open society," she added.
Should Hofer win the vote, he would become the first democratically-elected far-right nationalist head of state since the Second World War.
The 6.4 million Austrians of voting age, all those 16 or over, will be able to write the next page of their country's, and possibly Europe's, history between 8am and 5pm (7pm and 4pm GMT) on 4 December.
Near-results will be known by 10pm (9pm GMT), unless the race is too close to call. In that case, the result will only be known for certain after absentee ballots are counted, with a winner declared either the next day or the day after.