Astronaut Tim Peake has divulged how spending time on the International Space Station took a toll on his appearance during an interview on This Morning today (17 October).
The 44-year-old British Army Air Corps officer and European Space Agency astronaut discussed how his job has aged his body after spending six months on the Principia mission. He returned to Earth on 18 June.
He told Phillip Schofield and Christine Lampard: "The body changes so much... the cardiovascular system, your immune system depletes, your bone density reduces, your skin ages, your eyesight changes... but amazingly, everything has returned to normal in just one month from landing. With the exception of my bone density, which will probably take around a year to recover."
The first UK astronaut to go on a spacewalk also spoke about whether it is humanly possible to travel to Mars. He said: "When I arrived on board the space station, they were already into their nine-month stay and they were in such great shape physically and physiologically.
"We've spoken since landing and I've been amazed at how well we can live and work in space and still come back to Earth and still be in great shape, so I think the challenges of going to Mars are not going to be from a physiological or psychological point of view, we are going to have to overcome some technical challenges..."
Peake continued: "The younger generation I'm speaking to as I tour around the UK, they really are the generation that will see humans land on Mars, which is incredibly exciting. The International Space Station will probably go on until about 2024. We are then looking at going to the Moon and setting up a permanent habitation module on the Moon as a stepping stone to Mars. So a really exciting couple of decades coming up that will take us to Mars."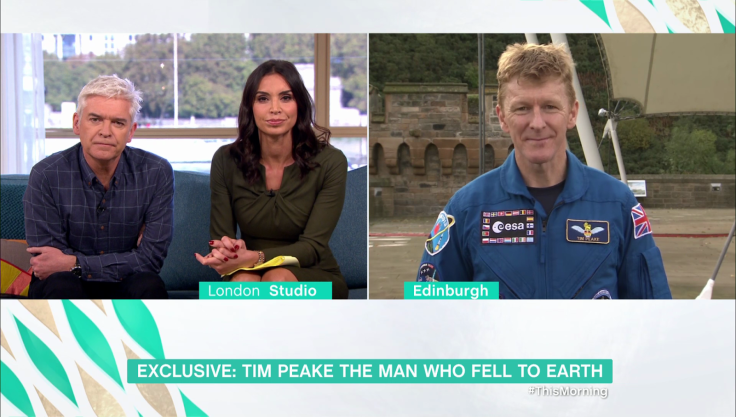 Peake also confessed to missing life in space already, adding: "When I speak to my friends who are on board now, I do miss it. I miss the view [of] Earth, I miss the weightlessness, and yes, if a mission came up to go to the Moon and to start that habitation module, I would be the first in the queue!"
Schofield remarked: "What would your family say?" Tim replied: "It does take its toll being away from friends and family, but they've always been so supportive."