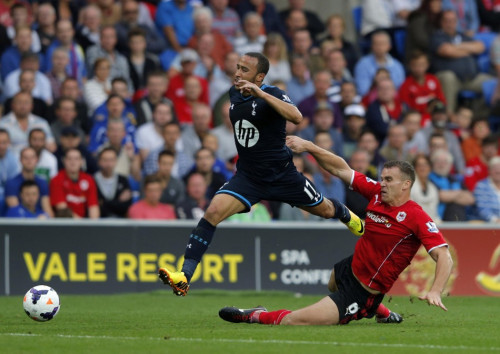 Tim Sherwood says Andros Townsend has the character to become one of the world's best wingers, but insists the Tottenham man still has a lot to learn before he can push the likes of Gareth Bale and Cristiano Ronaldo.
Townsend had a brilliant beginning to the season for Spurs and England, with many of the White Hart Lane faithful hoping he might become a ready-made replacement for their former hero Bale.
But his season appears to have hit a roadblock, with the England international having less of an impact towards the end of 2013 before finishing the year with a hamstring injury.
As he prepares for a return to the first team with game time for the Under 21 side, Sherwood argues that Townsend's hunger to succeed coupled with his blossoming ability will see him become a top player for Tottenham.
"Andros backs himself to be better than anyone else in the world, that is the sort of character he is," the manager told reporters. "He needs to get himself fit and firing again and I am sure you will see the best of it.
"I have known him since he was a kid and he is a good lad. He is a top trainer and he wants to be playing in every minute of every game, but he will get his opportunities and I am sure he will be productive between now and the end of the season for us."
Tottenham have enjoyed an impressive start to 2014 and are currently just two points off a top four spot.
Townsend's return to the fold will further increase competition for attacking berths in the squad and Sherwood believes that the winger is now among the best in the England squad, but has a lot of work to do before he can consider himself one of the best in the world.
"He wants to play wide and attack people. Wherever you put him on the pitch he will try and take people on," he explained.
"He can still learn from others and Aaron (Lennon) for instance at how to be more responsible when you are tracking back. Also other players can learn from Andros at how direct you can be at times as there's no point playing safe.
"The kid doesn't know how to play safe. He wants to put people on their backside and does it a lot of times.
"He can learn more, but who are we judging him on? We are not judging him against Bale or Ronaldo at the moment, but you can certainly judge him against anything in the England squad.
"Give me a wide player in the England squad and I will give pros and cons for both of them. I am not going to be biased towards my own players."