Hip-hop power couple T.I. and Tiny are calling it quits. R'n'b singer Tiny is said to have filed for divorce from her rapper husband after six years of marriage following months of reported arguments.
Earlier in December, Tiny, real name Tameka Harris, filed divorce papers in Georgia's Henry County, TMZ reports. A source told the website that the couple had endured several months of rocky relations after Tiny was pictured with T.I.'s rival Floyd Mayweather.
An insider told E! News that the couple had "arguments and disagreements over some issues [which] led them to split", but they "still [want to] be friends for the kids and family".
Neither T.I., real name Clifford Harris, nor Tiny have publicly commented on the split reports. The estranged couple are parents to three children, King Harris, Major Harris and Heiress Harris while Tiny is mother to daughter Zonique Pullins from a previous relationship, and T.I. is also a father to Clifford Harris Jr., Domani and Deyjah Harris.
T.I. once said of his longtime partner: "[I] can't say enough about how special of a woman I have. It takes a lot to endure the worst of times and still stay grounded during the best of times."
As another showbiz couple bites the dust in 2016, IBTimes UK takes a look back at T.I. and Tiny's lengthy relationship.
2001: T.I. begins dating the former Xscape singer after meeting through mutual friends.
2007: The couple's relationship was tested when their child was stillborn six months into Tiny's pregnancy. Reflecting on the ordeal, Tiny later told Essence: "The experience taught me not to take life for granted," adding that the tragedy "definitely brought us closer in our relationship".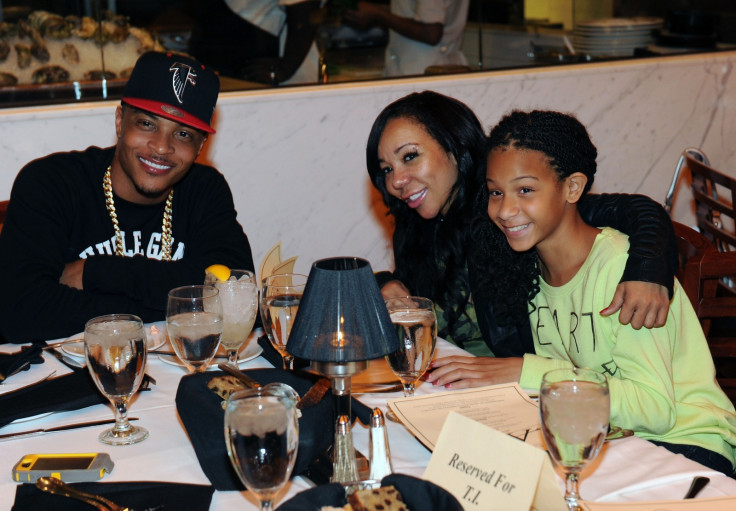 July 2010: Tiny and T.I. secretly marry at a courthouse in Miami Beach on 30 July.
September 2010: Couple engulfed in controversy held for drug possession while driving in Los Angeles in September. The incident led to an 11-month jail stint for T.I. who was found to have violated the terms of an earlier parole with the arrest.
2011: After T.I.'s release from jail, the couple headed to the TV studios with their reality show T.I. And Tiny: The Family Hustle begins airing on VH1 in December. The series ran for five seasons until August 2015.
2014: T.I. gets into a brawl with boxing champ Mayweather on the Las Vegas strip. Mayweather allegedly claimed to have had sex with Tiny.
2015: T.I. and Tiny announce they are expecting their third child together.
November 2016: Footage and images emerge of Tiny and Floyd Mayweather hanging out together at a Halloween party, reportedly jeopardising her marriage with T.I.