Tired of the Weather Girl? Doge Can Tell You the Weather Forecast Now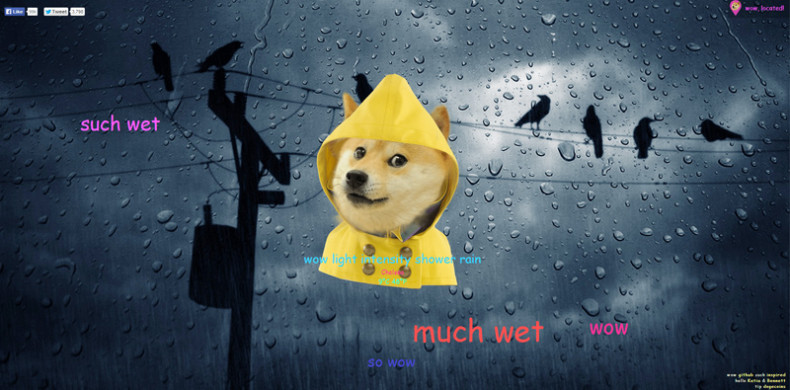 The internet's current favourite meme Doge is now so popular that he's now got his own website doling out weather reports.
If you head over to dogeweather.com, you'll be treated to a geo-located weather forecast from Doge, complete with matching explanations in signature Doge lingo.
If the weather's rainy, like it is here in London, Doge will appear dressed in a bright yellow raincoat, together with the temperature gauge in both Celsius and Farenheit, together with helpful comments like "such wet", "very cloud" and "many rain".
"Doge" (pronounced "Dohj" like the chief magistrate of Venice) is a slang term referring to the Japanese dog breed Shiba Inu.
Photos of this dog are commonly photoshopped onto photos of amusing photographs, together with five phrases meant to illustrate the dog's internal monologue, which include adverbs like "such", "very", "many", "so", together with the mandatory interjection "wow".
So popular has the Doge become that he has had a virtual currency named after him – the Dogecoin, a crypto-currency offshoot similar to the Bitcoin, which has so many fans that a campaign to send the Jamaican bobsled team to the Sochi 2014 Winter Olympics by raising Dogecoins managed to raise $31,300 (£19,000; €23,100) raised in just over 24 hours.