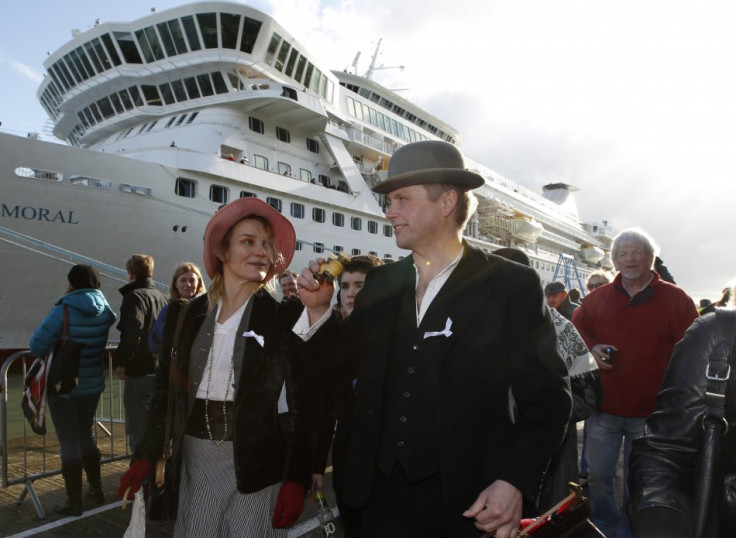 The 100th anniversary of the doomed ship Titanic was commemorated across the world with various events.
The British cruise ship MS Balmoral which was retracing the route of the ill-fated liner with 1,309 passengers aboard has arrived at the site where the Titanic sank 400 nautical miles (460km) off the coast of Newfoundland.
Passengers and crew held ceremonies to mark the tragedy after a minute's silence aboard the MS Balmoral.
Prayers were said over the wreck site and as the Balmoral's whistle sounded, the wreaths were cast into the water from three separate parts of the stern, reported the BBC.
The passengers include relatives of those who lost their lives on the great ship, relatives of survivors, authors, historians and people who are just fascinated by the Titanic story. The Titanic sank in the Atlantic Ocean after it hit an iceberg on its maiden voyage from Southampton to New York on 15 April 1912. More than 1,500 people lost their lives in the tragic mishap.
Passengers from another cruise ship, Azamara Journey, which sailed from New York, also arrived at the spot to take part in the ceremony.
A memorial service is being held in Southampton, from where the ship began its trip to New York. Apart from that the 100th anniversary will also be marked in Northern Ireland and in the Irish Republic, where many of the victims belonged to.
In Belfast, a Titanic Memorial Garden - with the names of 1,512 victims etched on five bronze plaques - is set to open where the liner was launched.
Thousands of people are expected to attend the opening of the memorial garden. Victims of the mishap will be remembered by their relatives, politicians and community figures in the ceremony.
Many attended a choral requiem for the lost souls at the Anglican St. Anne's Cathedral on Saturday. A nationally televised concert also took place at the city's Waterfront Hall. The concert brought together film stars and people from the music industry, which featured a rare documentary footage.
The anniversary is also being marked in other parts of the globe. Titanic exhibitions are being hosted in places including Las Vegas, San Diego, Houston and Singapore.