Palestinian Elders Shield Jewish Settlers from Lynching after West Bank 'Price-Tag' Attack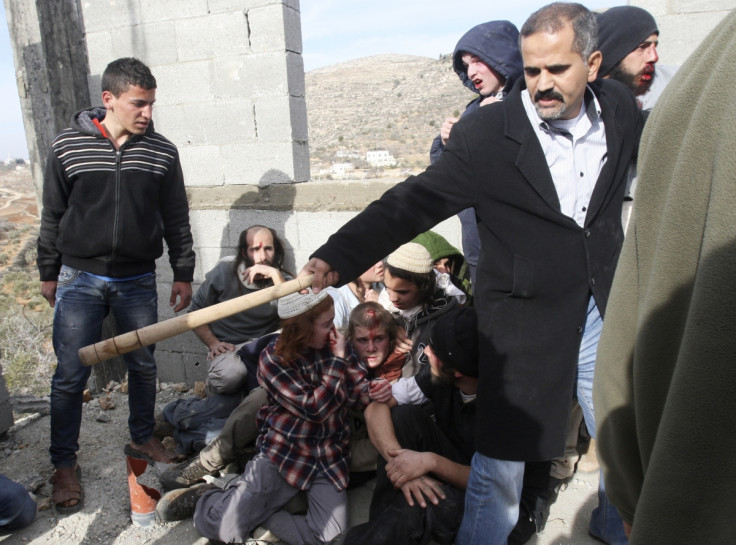 Palestinian officials handed a group of Jewish settlers over to the Israeli Defence Forces (IDF) after they were rescued from a lynching by West Bank villagers angered by their acts of vandalism.
Footage has emerged online showing more than a dozen male settlers, including some youths, sitting together with blooded faces after being surrounded by Palestinians in the outskirts of the village of Jalud, near Nablus.
Palestinian and Israeli sources alleged that the Jewish settlers had entered Qusra to carry out a price-tag attack. The Israeli military said the incident began when Israeli security forces eradicated an illegal settlement in Esh Kodesh, in the northern West Bank.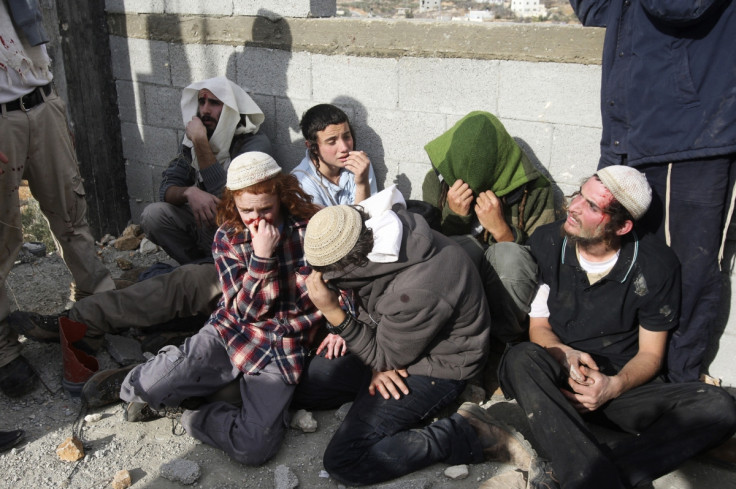 Jewish settlers sit together after being detained by Palestinian villagers
Reuters
'Price-tag' is a term used by Jewish settlers to describe attacks – usually carried out against Palestinians but also targeting Christian churches and Israeli Arabs – in retribution or punishment for the Israeli government's actions perceived as anti-settler. The attacks are aimed at exacting "a price" for government actions, such as demolishing settlements.
In this case, the settlers had attacked farmers and hit a boy from Qusra, according to Palestinian sources. Zakariya Sedde, field worker for Rabbis for Human Rights, a rabbinic grassroots organisation, claimed that the settlers had vandalised 15 olive trees and attacked a farmer.
Ziad Odeh, deputy mayor of Qusra, also accused the settlers of trying to uproot olive trees belonging to the Palestinians.
To the settlers' claims that they had just been "hiking in the area", he replied - as reported by Israel's Channel 2 news - that hikers "do not come with iron bars, wooden clubs, or wearing masks."
Details of what followed are sketchy, but a military spokeswoman said there was "mutual rock-throwing" between settlers and the Palestinians.
A farmer told Reuters that a group of around 30 settlers came down the hill and attacked the Palestinians with stones. "We chased them and they fled to a house under construction. They were cornered there and some of the people here beat them – they had attacked us on our own land," he said.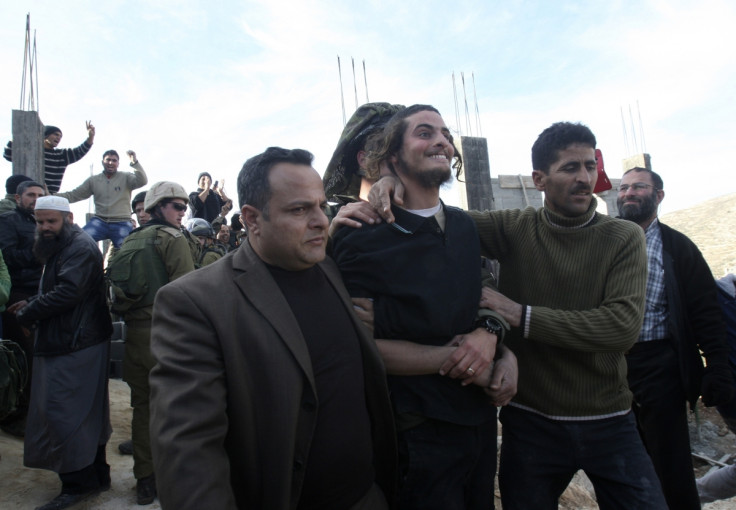 An Israeli soldier and a Palestinian villager (R) escort away a Jewish settler (C) after he was detained by Palestinian villagers
Reuters
The manhunt stopped when some settlers sought refuge in the building under construction. Other settlers were led there by Palestinians, as shown in the footage.
A village leader told Channel 2 news that the Palestinians called in other liaison officers who then handed the settlers over to Israeli troops.
"Because we are Muslims and responsible people we protected their lives," Abd al-Adhim Wasli said.
A security source told the Jerusalem Post that the lynching was prevented by older Palestinians.
More than 1,100 attacks on Palestinian property and more than 983 episodes of violence by settlers were reported in 2013, according to Palestinian sources.
© Copyright IBTimes 2023. All rights reserved.