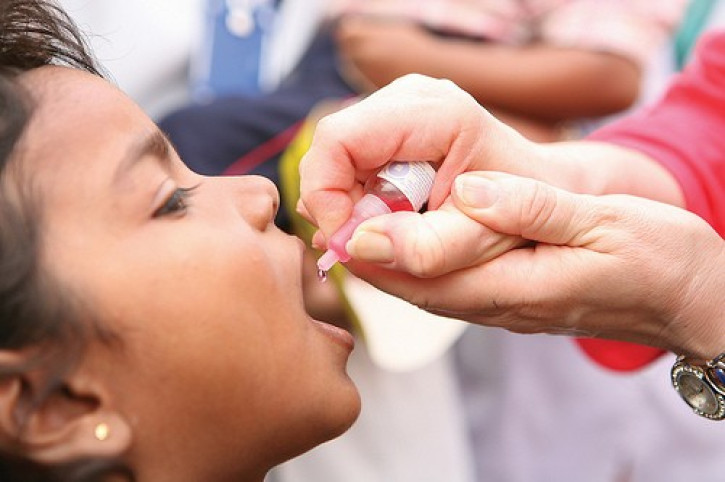 A one-and-a-half-year-old boy died barely 30 minutes after being given polio vaccination in Ludhiana, a city in north India on Thursday (21 September).
The vaccination was said to be given by Anganwadi workers – a type of rural mother and child care centre workers– as part of the door-to-door polio immunisation drive.
According to the victim Aditya Kumar's parents, the toddler fell ill and died minutes after being given the drops. The police have registered a case and an investigation is underway.
"My son was sleeping on a cot outside the house when Anganwadi workers came, they forcibly made him wake up and administered him polio drops. Family members had told them not to vaccinate the child as he was sleeping. Just half an hour after the incident, the child's health started deteriorating. Child became unconscious and when taken to nearby Krishna hospital, he was declared brought dead," the child's father, Rajinder Kumar told The Indian Express newspaper.
Following the death, the victim's family members staged a protest outside their home, demanding an inquiry. "We have reported the matter to the police and want an inquiry," Kumar added.
Dr Jasbir Singh, District Immunisation Officer, in a statement said,"In our five-day long drive, we administered drops to over 3.75 lakh children and no ailment has been reported in any child. Death of the child must be due to some other reason. It was just a coincidence that it happened some time after administering polio drops. A board of doctors will be carrying out the postmortem, which will reveal the cause of death."
According to the Times of India (TOI) report, 20 other children in the same area had also been given the drops from the same vial and they were all healthy.
"There is no connection between polio drops and the child's death. Such an incident has never been reported ever since the pulse polio drive started in 1995," Dr Singh said.
The vaccination drive, which started on 17 September, will administered polio drops to more than 395,000 children aged up to five years.