Tom Cruise's ex Katie Holmes and Jamie Foxx dating news have been swirling around for years now but the couple has been very secretive about their alleged romance.
A report in US weekly quoted a source saying that Tom Cruise's ex was allegedly ready to "go public" with the Django Unchained actor.
However, Gossip Cop has debunked the report and said that the story was not true. A friend of Foxx has told the website that their impending announcement is "not true" and that the actor and actress aren't "making it official."
Previously, the US Weekly report quoted a source saying that Holmes "used to be super worried about public attention," but now she is apparently prepared to take a huge step forward in her relationship with the 49-year-old actor.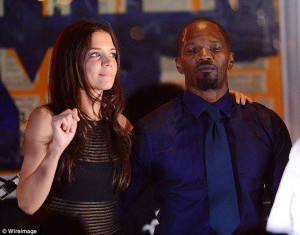 A source told the outlet, "To make it impossible to get photo evidence that they are together, they travelled in cars with tinted windows and took secret back elevators." Another insider added that "they had it down to a science. Katie is tired of playing the hiding game."
The Amazing Spider-Man 2 villain reportedly treated Katie to a Mexican vacation for her birthday in December, but the insider teased that they have bigger plans in the future. "They're going to go out to dinner more and are talking about a trip to Europe," the insider told the magazine.
The couple was spotted enjoying an intimate dinner date on Sunday night (2 April) in the East Village in New York City. A source previously told HollywoodLife, "Katie and Jamie are finally getting to a place in their relationship where they are feeling free and proud of their love. They have been secretly dating for years and until recently have kept their passion for each other behind closed doors."