Surrey cricketer Tom Maynard has died aged 23 after being struck by a London Underground tube train following a suspected police chase.
Police have confirmed they stopped a man driving a black Mercedes erratically in the early hours of Monday morning, and after the man escaped the scene, Maynard's body was found on the tracks of District Line station Wimbledon Park less than an hour later.
British Transport Police and London Ambulance Service medics were called, but Maynard was pronounced dead at the scene. Investigations continue to discover the identity of the man.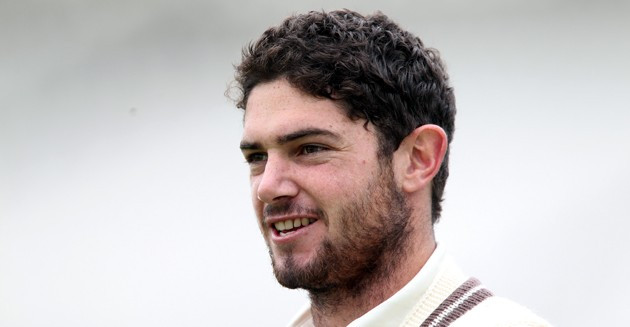 A Metropolitan Police spokesman said: "At approximately 4.15am on Monday, 18 June, officers stopped a vehicle after it was seen being driven erratically in Arthur Road, SW19.
"The male driver of the vehicle - a black Mercedes C250 - made off on foot. Officers were unable to locate the man.
"At approximately 5.10am the body of a man fitting the same description was found on tracks near Wimbledon Park station.
"Enquiries are underway to establish identity of the man."
The Independent Police Complaints Commission is investigating.
"Once a formal referral has been received from the Met an assessment will take place regarding the level of IPCC involvement."
BST have confirmed the death is not being treated as suspicious.
A BTP spokesman said: "BTP officers were called to the line near Wimbledon Park London Underground station on Monday, 18 June after a man was struck by a District line train,"
"The incident was reported to BTP at 5.03am and was also attended by Metropolitan Police officers.
"London Ambulance Service medics attended but the man, believed to be 23 years old, was pronounced dead at the scene.
"The incident was reported to BTP at 5.03am and is currently being treated as non-suspicious. A file will be prepared for the Coroner."
Maynard was last week reprimanded by Surrey for being out late during a County Championship match against Sussex.
The 23-year-old, among the most talented players in the country, was tipped to have a future career in the shortened form of the game with England, having featured for the Lions side during the tour to Bangladesh and Sri Lanka at the start of the year.
Tributes have poured in for Maynard, son of former England player Matthew Maynard, who played 48 first-class matches for Surrey.
Former England and Surrey batsman Mark Ramprakash wrote on Twitter: "Life can b so cruel! Tom Maynard- a really nice guy who was a pleasure to play with & will be really missed. RIP Tom.[sic]"
Jason Roy, another of Surrey's young breed, said on Twitter: "Can't believe I'm writing this. R.I.P Tom Maynard, one of my best friends. You will always be in my heart and will miss you so so much.[sic]"
A Surrey statement read: "He had impressed in all forms of the game, scoring a maiden first-class hundred in Cardiff last year, playing a key role in Surrey's victory in the Clydesdale Bank 40 and earning selection for the England Lions.
"His future potential was unlimited, with experts both inside and outside the club predicting he would soon follow in the footsteps of his father Matthew by graduating to full England honours."
"This is a very sad day for everyone connected with Surrey County Cricket club and for Glamorgan County Cricket club where Tom spent the early part of his career," said ECB chairman Giles Clarke.
"Tom was a player of enormous potential who had already represented England Lions and had an exciting future ahead of him. Our hearts go out to the Maynard family for their tragic loss and we send them and all Tom's many friends and colleagues within the game our deepest sympathies."
Surrey chairman Richard Thompson said: "Our thoughts at this awful time are with Tom's family and friends and all those that were close to him.
"Tom Maynard was a prodigiously talented young batsman who had made an incredible start to his career and was clearly destined for far greater things.
"The impact Tom made in such a short period of time for Surrey CCC spoke for itself. There is a profound sense of loss at the passing of Tom. To lose anybody at such a young age is an utterly senseless tragedy."
Maynard, who joined Surrey from the youth ranks at Glamorgan at the start of last season, played for his county in their Twenty20 Cup match against Kent in Beckenham on Sunday evening having previously appeared on Sky Sports' Cricket AM program on Saturday.
The Lions' T20 fixture against Hampshire at The Oval on Wednesday has been subsequently postponed as a mark of respect for Tom, as has the team's pre-match press conference on Monday.
He is the second rising Surrey and England star to pass away in recent years, after Ben Hollioake died in a car crash aged 24 in 2002.