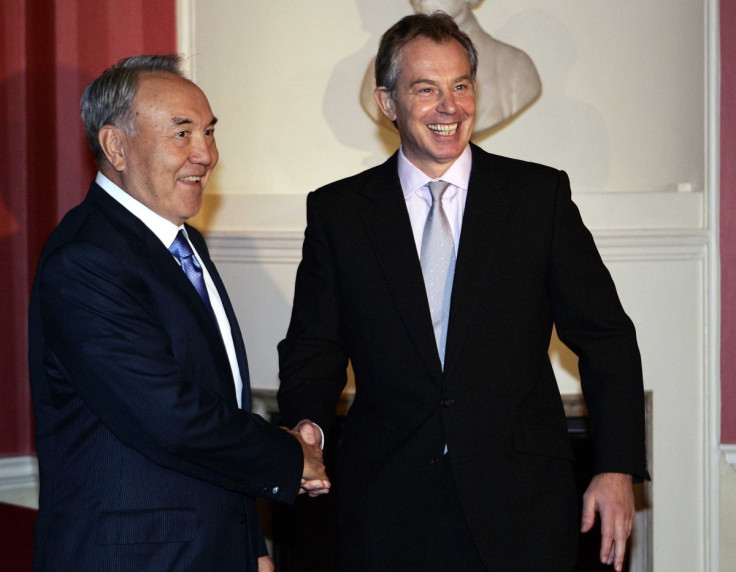 Tony Blair made more than £5m ($7.20m) a year by advising the brutal dictator of Kazakhstan, according to a dossier of emails from his consultancy which were leaked to the Daily Mail. The emails seem to show that the former British prime minister's company has made huge sums of money advising the country's authoritarian president Nursultan Nazarbayev.
The tabloid newspaper also alleges that representatives for Tony Blair Associates (TBA) first made contact with Kazakh authorities in 2008, a year after Blair left office in the UK, and that he has been offering advice for at least six years.
Amongst the allegations made by the Mail is the suggestion that Blair's firm "rewrote a speech for Mr Nazarbayev to fend off criticism" following the 2011 massacre of 15 unarmed political protesters, and that for a fee he would personally become "particularly closely involved", despite longstanding international fears of the central Asian country's poor human rights record. By the time the contract between the two parties was renewed in 2014, Tony Blair Associates was making around $6.3m (£5.3m) a year from advising Nazarbayev.
This fee was set out in an email in December 2014 from Andreas Baumgartner, one of TBA's most senior representatives, to the Kazakh ambassador to London. TBA asked for $2.65m for "political advice", $2.55m for helping uphold the rule of law, on top of $1.1m for services running the nation's civil service academy.
That same email also spoke of a deal in which TBA hoped to establish a further contract with the Kazakh National Bank, and mentioned a meeting between its governor Kairat Kelimbetov and Blair the next day.
According to the Mail's report, Blair "denies making any personal profit from his deals with Kazakhstan. His office has said he simply helped to set up an advisory group and had not personally advised Mr Nazarbayev".
The money TBA was supposed to receive for its Kazakh deals was due to be paid through a firm called Windrush Ventures No.3 LP – one of several companies linked to the Labour leader. The Mail reports that the complex network of corporations that have been set up has made it too hard to work out exactly either what TBA receives from its work, nor how much Blair personally profits.
There are no international sanctions currently in force against Kazakhstan.