The run-up to the 23<sup>rd series of Top Gear has been a car crash, or perhaps a cleverly orchestrated PR stunt as IBTimes UK previously speculated, but fans will no doubt be gearing up for the first episode starring new hosts Chris Evans and Matt LeBlanc which will air on Sunday (29 May).
Evans has battled a string of controversies from filming spats to personal revelations, including the highly criticised Cenotaph stunt to accusations of "bullying" former colleagues on his part. The BBC Radio 2 presenter unleashed his built up wrath in his Mail On Sunday column earlier this month where he claimed he was preparing for the demise of his entertainment career.
He wrote: "As a consequence of the mud-slinging, I have taken to daily, contemplative soaks in the bathtub of 'worst-case scenarios'. I am a realist hoping for the best, while preparing for potential imminent career death."
Now that he's got that off his chest, along with dubbing his critics "malcontents," the dust has settled – we hope – and the reformed Top Gear seems to have garnered enough media attention to keep them in the fast lane for a good few miles. But will he surpass the motoring enthusiasts and long-time Top Gear faces, Jeremy Clarkson, Richard Hammond and James May? That remains to be seen, but we're sure former Friends star LeBlanc will bring something new and interesting to the wheel.
Slamming any rumours of rivalry between the two camps, LeBlanc said he'd watch Clarkson's new Amazon show, The Grand Tour, in a recent interview with Radio Times. He also commented on the media storm, claiming: "I didn't anticipate the ruthlessness of the British press. [...] I didn't fire those guys [Clarkson, Hammond and May]. I've met them. They're nice guys. I'll watch their new show. I wasn't there when any of it went down." LeBlanc also slammed any rift between him and Evans as "bullsh*t."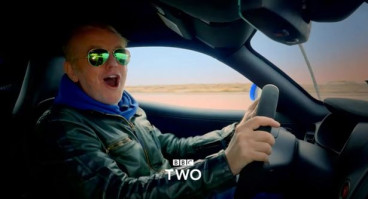 So now that the slanderous accusations, alleged tiffs and diva-like behaviour (Evans overtook Clarkson for his onset antics, it was reported) we can all settle down and crack open the tea and digestives ahead of the new series on the weekend. The most famous motoring show on British television is back like never before and will feature a range of test drives, spectacular stunts and reports on the latest models.
And they're not alone, as commentator Eddie Jordan, world record-breaking German racing driver Sabine Schmitz, renowned motoring journalist Chris Harris, car reviewer and presenter Rory Reid and last but not least, the Stig, will be joining the presenters on their journey.
Viewers will witness Evans take on a Dodge Viper ACR to the home of Top Gun in Nevada against Schmitz, who will drive a Chevrolet Corvette Z06. LeBlanc will battle the sands of Morocco in the Ariel Nomad before he goes head to head with Evans in a gruelling UK v USA challenge on his return to Britain. Hollywood actor Jesse Eisenberg and TV chef Gordon Ramsay will also be the first episode's star guests, so we've got a lot to get revved up about.
Top Gear airs on Sunday (29 May) at 9pm on BBC2.