Germany's top blue chip companies are set to explain to Chancellor Angela Merkel why they have managed to hire fewer than 100 refugees from the estimated one million who arrived in the country over the past year.
Merkel, who opened the borders to refugees last year, has ordered the big companies to explain their "lack of action" and also to exchange ideas on how the hiring figures could be further improved. The top company bosses have been summoned to Berlin on Wednesday, 14 September, Reuters reported.
Reuters, which carried out a survey of the 30 companies in Germany's DAX stock market index, found that only 63 refugees were hired in total.
The figure, however, may not be a true reflection of the number of refugees hired as several of the 26 firms that responded claimed that it considered it discriminatory to ask about the applicants' migration history. As such, they were not sure if they had employed migrants and if so, how many.
The companies say that it is too early to expect large numbers of refugees to be in employment. "Our experience is that it takes a minimum of 18 months for a well-trained refugee to go through the asylum procedure and learn German at an adequate level in order to apply for a job," Deutsche Telekom's spokeswoman said.
Most of the blue chip companies blame the glaring small number of refugees hired so far to the lack of German language skills, the fact that most refugees have been unable to prove any qualifications and uncertainties surrounding their legal right to remain in the country.
Of the 63 confirmed migrant hires, 50 were taken on by Deutsche Post DHL to sort and deliver letters and parcels.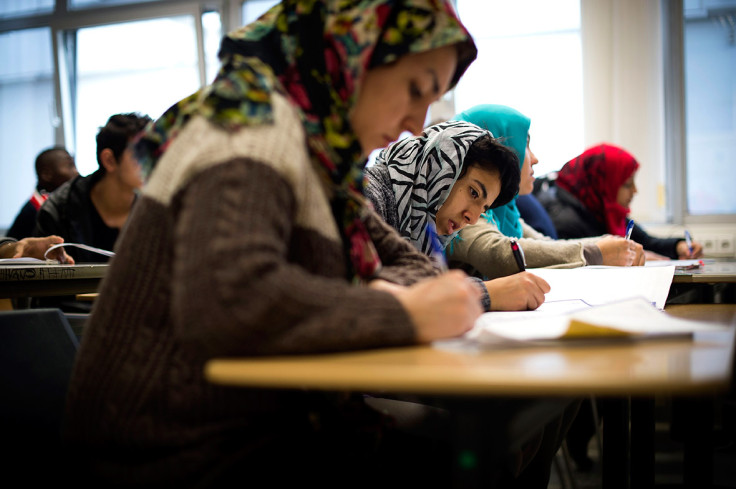 "Given that around 80% of asylum seekers are not highly qualified and may not yet have a high level of German proficiency, we have primarily offered jobs that do not require technical skills or a considerable amount of interaction in German," a company spokesman said.
Companies in the financial or airline sectors say that it is as good as impossible to hire refugees due to regulatory requirements for detailed background checks on staff.
Reuters said: "What is clear is that early optimism that the wave of migrants could boost economic growth and help ease skills shortage in Germany - where the working-age population is projected to shrink by six million people by 2030 - is evaporating."
Companies prefer to hire via apprenticeships
The Reuters survey found that most large companies, especially manufacturing ones, prefer to hire through their structured apprenticeship programmes. Through this programme, people are trained for up to four years for highly skilled and sometimes company-specific jobs.
It found that more than 1,000 internships have been offered by companies to refugees. They see the migrant influx as beneficial as it brings more diversity to their workforce, the news agency said.
In August, about 346,000 people with asylum status sought jobs in Germany, according to the latest figures from the German Labour Office. This was up from the 322,000 recorded in July and the 297,000 in June. Job statistics for refugees were first published in June.