Top quotes from Umberto Eco, who died at the age of 84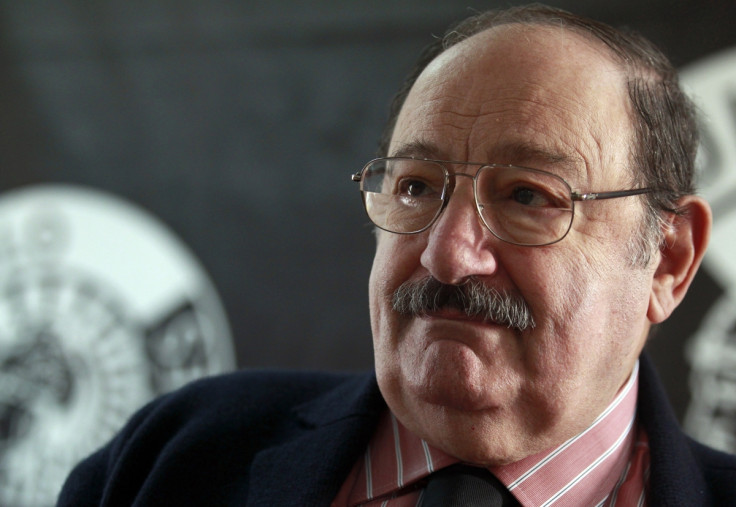 Novelist Umberto Eco, best known for his book The Name of the Rose, died on Friday 19 February. He was suffering from cancer. The Italian writer was 48 when he wrote the medieval murder mystery after a publisher asked him to contribute to a series of short thrillers. Eco said agreed because he, "felt like poisoning a monk".
The book was vilified by the Vatican as a "narrative calamity that deforms, desecrates and offends the meaning of faith". The Name of the Rose sold two million copies in Italy and became an international hit, with over 10 million copies sold in 30 languages. It was turned into a film starring Sean Connery as William of Baskerville, the monk detective and bibliophile, in 1986.
Umberto Eco in his own words
"What is love? There is nothing in the world, neither man nor Devil nor anything, that I hold as suspect as love, for it penetrates the soul more than any other thing. Nothing exists that so fills and binds the heart as love does. Therefore, unless you have those weapons that subdue it, the soul plunges through love into an immense abyss." ― The Name of the Rose
"I am a philosopher; I write novels only on the weekends."
"I think that Barbara Cartland writes what the readers expect. I think an author should write what the reader does not expect. The problem is not to ask what they need, but to change them… to produce the kind of reader you want for each story."
"Nothing gives a fearful man more courage than another's fear."
"The real hero is always a hero by mistake; he dreams of being an honest coward like everybody else."
"I believe that what we become depends on what our fathers teach us at odd moments, when they aren't trying to teach us. We are formed by little scraps of wisdom."
"The [Da Vinci Code] author Dan Brown, is a character from Foucault's Pendulum! I invented him. He shares my characters' fascinations — the world conspiracy of Rosicrucians, Masons and Jesuits. The role of the Knights Templar. The hermetic secret. The principle that everything is connected. I suspect Dan Brown might not even exist." – interview with the Paris Review in 2008
"Charlie Brown has been called the most sensitive child ever to appear in a comic strip, a figure capable of Shakespearean shifts of mood; and Schulz's pencil succeeds in rendering these variations with an economy of means that has something miraculous about it."
© Copyright IBTimes 2023. All rights reserved.