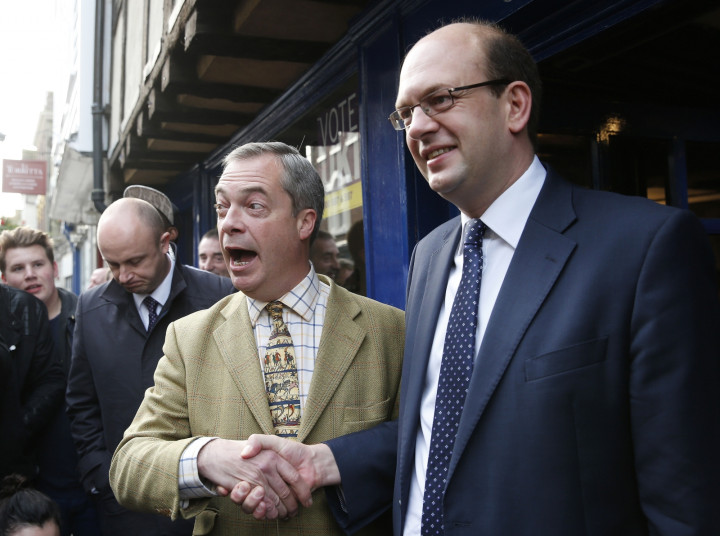 Nomura predicts that the Conservative party and Ukip are likely to form the next British government despite the May 2015 general election being "the most unpredictable for two decades".
According to the latest note by political analysts Philip Rush and Alastair Newton at the investment banking giant Nomura, the next general election is likely to be result in another hung parliament, resulting in the formation of the two right leaning parties.
"Opinion polls – and the bookmakers – are pointing to a plurality for the left-of-centre opposition Labour Party but we think that the right-of-centre Conservatives are on track for another plurality and that they will probably form the next government, possibly with support from the Northern Ireland"s Democratic Unionist Party (DUP) and/or UKIP," said Newton and Rush in the note.
"That said, whatever the election outcome we expect its immediate aftermath to be more protracted and messy than in 2010 before a new government is formed, with the added complication that it may not be a government capable of surviving the full five years of the parliamentary term."
Britons will vote for who they want in parliament on 7 May 2015 in the next general election.
The Coalition Conundrum
On 21 November, Ukip's second MP was sworn into parliament after he won the Rochester and Strood by-election.
The Rochester and Strood by-election was triggered after Reckless jumped ship to Ukip in September and stood down as an MP.
The Ukip candidate won the contest after gaining 16,867 voters – representing 42.1% of the vote.
Conservative candidate Kelly Tolhurst came second in the by-election after securing 13,947 votes (34.8%). The voter turnout was 50.6%, down from 64.9% in 2010.
However, Ukip leader Nigel Farage went on LBC Radio and said he would not seek a coalition with any party, whatever the outcome of next year's general election.
"I make it absolutely clear, I do not believe it would be right for Ukip to go into coalition with anybody," he said.
"Let's just fight the General Election and let's get the maximum number of Ukip MPs elected."
Scottish Independence and EU Referendum
Cameron pledged to let Britons vote for either exiting and staying within the European Union via an in/out referendum scheduled for 2017, if his Conservative party remains in power after the general election next year.
"We also see a rising probability of an in/out referendum on EU membership – and, therefore, a Brexit – during the lifespan of the next parliament; and we would not rule out a second referendum on Scottish independence," added Rush and Newton.
On 18 September, over 80% of Scots turned out to vote and, in the end, 55% decided Scotland should stay part of the 307-union with England.
Scotland's First Minister Nicola Sturgeon, who took over from the Scottish National Party's (SNP) leader Alex Salmond on 20 November, said previously that "it's not an if but a when" Scotland breaks away from the rest of the UK.
"There is no going back - and much as they might have wanted to, Whitehall politicians and mandarins cannot put us back in a devolved box," said Sturgeon.
"The word 'devolution' is no longer adequate, for that describes a process of handing down carefully circumscribed powers from on high to a relatively passive people.
"Scotland is now more politically engaged and assertive than at any stage of the democratic era."
Nomura analysts echoed Sturgeon's comments.
"We were always of the view that the 18 September referendum on Scottish independence was very unlikely to be the final word in the event of a vote to stay in the Union," said Newton and Rush.
"But even we have been surprised by how soon and how significantly the issue is featuring in UK politics again. And it is about to get even more prominent, we believe."