Tory housing bill moves closer to reality as opponents warn it will kill off council houses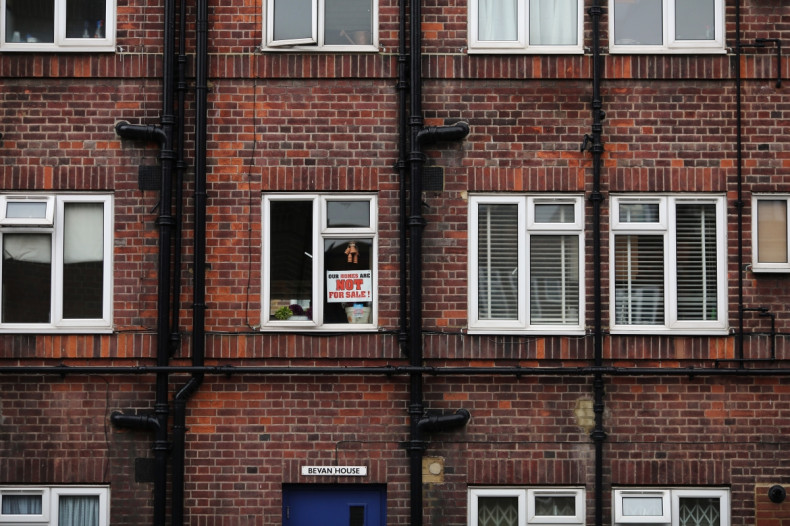 A controversial bill which campaigners say will end social housing in England and Wales is one step closer to passing into law as it enters the final stages of its path through the House of Commons.
The government says its wide-ranging Housing and Planning Bill 2015 will boost private housebuilding, increase home ownership, tackle rogue landlords, and save public money. The bill has entered its report stage, where MPs debate amendments, before entering its third and final reading in the Commons. It will then go to the Lords where its passage into law is expected to be a formality.
Among the policies are extending the Right to Buy scheme to include housing association tenants, abolishing lifetime tenancies in council-owned homes, and forcing councils to prioritise the construction of discounted "starter homes" for first-time buyers under 40.
Councils will also be obliged to sell off the most valuable vacant homes they own, with the money used to subsidise the construction of affordable housing. Publicly-owned brownfield sites will be given automatic planning permission for new housing. And council tenants on higher incomes will be expected to pay the market rent for their property, what critics call "pay to stay" in their own homes.
Eileen Short, chair of the campaign group Defend Council Housing, which is holding a protest against the bill at parliament on Tuesday (January 5), said major changes to housing policy in Britain are being "rushed through" and it is "an attempt to end non-market rented housing".
"The government is trying to shift even more public funding into further subsidies for what they call starter homes and away from rented housing that offers any security to the majority of people," Short told IBTimes UK. She said the vast majority of Britons were unable to afford to buy a home so people are being driven into private renting "where there are the highest levels of disrepair, the lowest levels of any kind of security, and the highest rents, unregulated".
"They're turning the clock back at such a rate of knots that some of us are contemplating our grandchildren facing the conditions that our grandparents faced and that we thought we would never see again," said Short, who wants more council housing built and rents regulated in the private sector. Housing associations have expressed concern about being forced to sell housing assets at a discount under Right to Buy, suggesting it will put their finances – and so further housebuilding – at risk.
The abolition of lifetime tenancies is described by Defend Council Housing as a "bombshell". The policy was not originally part of the bill, but added without fanfare as an amendment in December by the housing minister, Brandon Lewis. If passed, the bill will end lifetime tenancies for new council housing tenants, who will all be subjected to a periodic tenancy review by the local authority and moved on if deemed necessary by officials.
There is a serious shortage of housing, particularly in London and the south east of England. The market is feeling the pressures of an ageing population, high net migration, restrictive planning laws, and years of underinvestment by successive governments. Estimates of the UK's annual housing need vary from between 200,000 and 300,000. But housebuilding is falling well short of this. Housing starts in England in the year to September 2015 were 136,830, down by 0.8% on the 12 months before, according to government statistics.
Intense demand and a supply shortage has seen private sector rents and house prices spiral in recent years, while social housing waiting lists overflow with low-income families, particularly in the wake of welfare cuts, with councils unable to house many people. In England, the portion of social renters has fallen drastically since 1981, when they accounted for 31.7% of all households, according to the English Housing Survey. By 2013, this had plummeted to 16.8% as many shifted to the private rented sector.
The government is keen to increase the homeownership rate, which has fallen from a peak of 71% in 2003 to 63% in 2015. For this it has a number of schemes to help first-time buyers get a mortgage, including Help to Buy. And it is also pushing the private construction sector to ramp up housebuilding by relaxing planning rules, freeing up public land for residential development, and pumping public money into subsidising new homes.
Having drastically cut the housing budget under his austerity programme, Chancellor George Osborne doubled it at the end of 2015 to £2bn. Prime Minister David Cameron announced recently that the government would commission directly the building of new starter homes to help meet its 200,000 target for them. To qualify as a starter home, properties must be worth £250,000 and under outside of London and below £450,000 inside. The housing bill is central to the government's plans to boost housebuilding.
"A greater Britain must mean more families having the security and stability of owning a home of their own," Cameron said in October 2015. "My government will do everything it can to help people buy a place of their own – at the heart of this is our ambition to build 1 million new homes by 2020. Many areas are doing this already – and this is great – but we need a national crusade to get homes built and everyone must play their part. Councils have a key role to play in this by drawing up their own local plans for new homes by 2017. But if they fail to act, we'll work with local people to produce a plan for them."
The end of lifetime tenancies in council housing
At the moment, you can be given a "secure tenancy" by the council, which means if you stick to the rules, you can live in the property for the rest of your life. You can even sub-let spare rooms in your home. That secure tenancy is also heritable – meaning if you die, your immediate family can inherit it so they do not have to move.
But without fuss or fanfare, the housing minister tabled an amendment to the Housing and Planning Bill that, if passed, will "phase out lifetime tenancies" for council tenants. This will not apply retrospectively, meaning those with existing secure tenancies will not be affected. But they will no longer be able to pass secure tenancies on when they die.
Those without secure tenancies, or who need a council house in the future, will be offered tenancy contracts of between two and five years. At the end of the tenancy, it will be reviewed by council officials. If they conclude that you no longer need council housing, and could buy a property or rent in the private market, they will end your tenancy and support you to move on. They may also renew the tenancy, or move the person to different social housing that is deemed to be appropriate.