London housing crisis: Families pushed out of the capital 35 times quicker than 5 years ago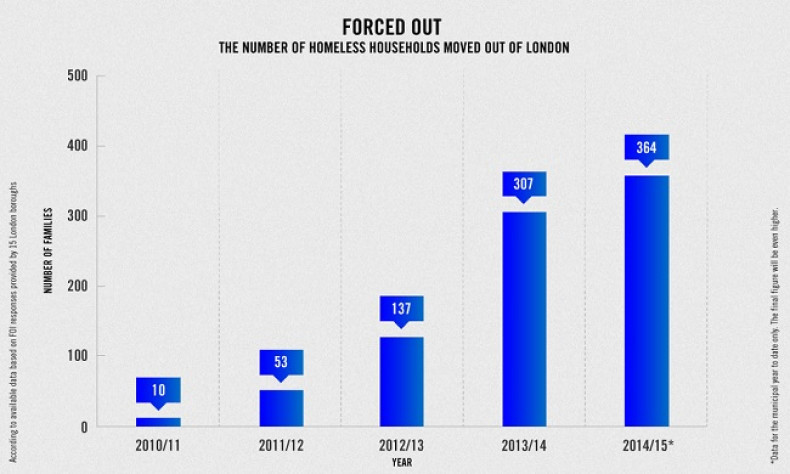 Crippling housing shortages and welfare cuts are making families leave London at an unprecedented rate, new shock data has revealed.
Families with children are being forced to move from the Capital 35 times more than they were compared to five years ago, according to VICE, global youth media company. So far this year 364 families have been forced to leave in comparison to just 10 in 2010/11.
The data from 15 out of 32 London councils was released by the Green Party which obtained it under the Freedom of Information Act.
Green Party Assembly Member Darren Johnson has written to the Mayor of London Boris Johnson, according to VICE, to lament over the increase of children being uprooted from schools and parents being separated from friends and families because they can no longer afford to live in their homes due to financial cutbacks.
He also said it was concerning that only half of the councils have responded to his request.
"With such huge public concern about the impact of the welfare cuts," he wrote, "I find it astonishing that many boroughs aren't keeping an eye on the impact in their own local area."
One single mother with three children from Wandsworth borough, who preferred to be unnamed, told VICE's Dan Hancox she had been forced out of the area to West Bromwich, near Newcastle due to the combination of a housing shortage and benefit cuts. She is a business administration student and relies on her neighbours and ex-husband for childcare support.
She said: "The council asked what situation would you like ideally. I told her I would like Tooting or Battersea, because I don't know any other area. At the end of the call she said, 'OK, I found the house for you.' I didn't know the area, and I asked where is it, and she said 'near Newcastle'."
When she rejected the offer and the council insisted: "you have to, you have no choice, you're homeless".
Figures from VICE also showed a 21% decrease in housing benefit claims in the private sector, which is forcing tenants out of inner London areas Camden, Hammersmith and Fulham, Kensington and Chelsea, Wandsworth and Westminster, because they cannot longer afford to live there.
The housing crisis is seen to be a key issue in the next election.
Earlier this month, communities and local government minister Stephen Williams, was left red-faced after refusing to knowledge the housing crisis as a contributing factor behind the "unprecedented" rise in homelessness in Britain during Crisis charity's annual conference.
He boasted that more than four million affordable homes have been built in the last decade to help ease the housing shortage. Andrew Winter from Brighton Housing Trust (BHT) was then met with rapturous applause when he told the minister: "It is only credible if you regard 80% of the market as affordable."