Tory leadership contest: Andrea Leadsom apologises to Theresa May over 'vile' motherhood comments
Energy secretary heavily criticised for claiming that being a mother makes her better suited to leadership.
Andrea Leadsom has apologised to Theresa May for her comments in which she suggested she would be a better prime minister because the home secretary doesn't have any children.
The energy minister was heavily criticised for the comments she made to a Times journalist, claiming that being a mother would make her more suited to lead the country as "I have children who are going to have children who will directly be a part of what happens next".
Leadsom said: "I am sure Theresa will be really sad she doesn't have children so I don't want this to be 'Andrea has children, Theresa hasn't' because I think that would be really horrible but genuinely I feel that being a mum means you have a very real stake in the future of our country, a tangible stake.
"She possibly has nieces, nephews, lots of people, but I have children who are going to have children who will directly be a part of what happens next."
Leadsom originally said she was "beyond anger and disgust" at The Times for running the story on their front page and demanded a transcript and audio of the interview, which the newspaper and journalist Rachel Sylvester provided.
Leadsom said she has now apologised to May, describing the criticism she received since making the comments as "shattering". Speaking to the Daily Telegraph, she said: "I absolutely said, what I specifically said, is that motherhood should not play a part in the campaign.
"I was pressed to say how my children had formed my views. I didn't want it to be used as an issue. Having children has no bearing on the ability to be PM. I deeply regret that anyone has got the impression that I think otherwise.
"I've already said to Theresa how very sorry I am for any hurt I have caused and how that article said completely the opposite of what I said and believe."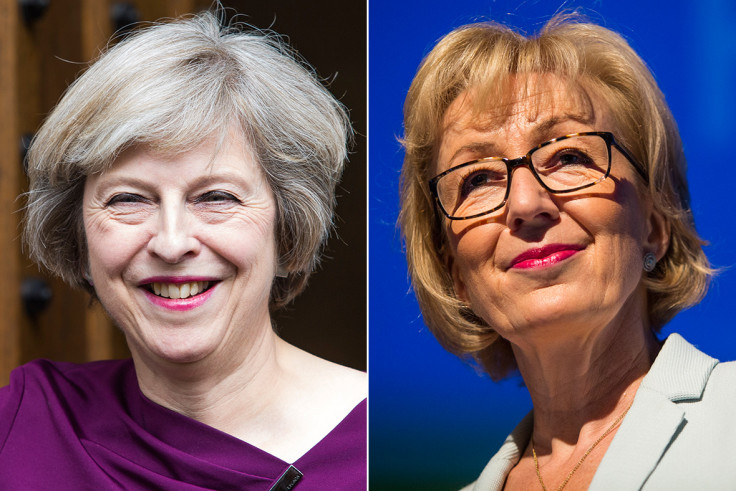 The comments were heavily condemned by fellow politicians. Tory MP for Totnes Sarah Wollaston said Leadsom has "repeatedly shown that she lacks judgement and is not the right person to lead the nation" and should withdraw from the leadership race.
Rutland and Melton MP Alan Duncan added: "I'm gay and in a civil partnership. No children, but 10 nieces and nephews. Do I not have a stake in the future of the country? Vile."
The apology arrived as May is to formally launch her national campaign to become the new Tory leader with a speech outlining her promises to confront big business by overhauling corporate governance and curbing executive pay.
She will say: "The people who run big businesses are supposed to be accountable to outsiders, to non-executive directors, who are supposed to ask the difficult questions, think about the long-term and defend the interests of shareholders.
"In practice, they are drawn from the same, narrow social and professional circles as the executive team and - as we have seen time and time again - the scrutiny they provide is just not good enough. So if I'm Prime Minister, we're going to change that system - and we're going to have not just consumers represented on company boards, but workers as well."
© Copyright IBTimes 2023. All rights reserved.