A group of young Tories studying at Oxford University allegedly groped women before going on to abuse pub locals after boozing heavily at a party.
The shocking behaviour reportedly took place following a Port and Policy party run by the Oxford University Conservative Association (OUCA).
OUCA boasts Brexiteer Jacob Rees-Mogg as honorary president and has also seen former prime ministers Margaret Thatcher and Ted Heath serve as presidents.
It was reported that male students attempted to kiss and fondle women after downing several dozen glasses of port each during drinking competitions.
When drink was refused to the crowd some replied by shouting abuse at the organisers, with one yelling: "I'll buy their families."
The Mirror reported the group left the party and went to King's Arms pub and shouted "Buller, Buller, Buller" in a reference to the Bullingdon Club, a boisterous drinking club that has earned a reputation for bad behaviour.
One of the drunken youths smashed glasses and bottles while one man was heard shouting: "My castle's bigger than yours" it was reported.
The Mirror says it has seen a report presented to the association's council by social secretary Lucy Boland which stated: "There is a common perception that the association has a problem with sexism, and that this perception is right.
"There are a number of members who feel able to treat women with disrespect and discourtesy.
"There have been numerous reports from members that last Sunday several attendees at Port and Policy groped, touched, kissed (or attempted to), or otherwise harassed female guests.
"We have also heard rumours of similar incidents occurring in previous weeks. I hope there is no doubt that everyone here today finds it totally ­unacceptable that women were made to feel uncomfortable in this way."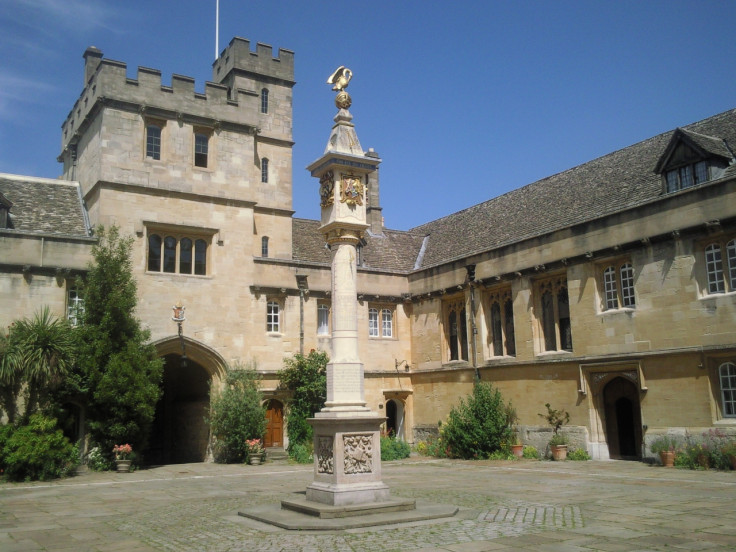 The university has the power to investigate OUCA and the association said that one member has already been suspended.
Incumbent OUCA President Timothy Doyle said in response to the allegations that the association takes them "very seriously".
"A member has been suspended until the end of term, following drunkenness at an event," Doyle said.
"Any allegations of sexual harassment are passed on to university authorities. No allegation received has been ignored."
A university spokesman added: "All Oxford students are expected to treat the public and each other with respect."
OUCA was founded in 1924 with Margaret Thatcher serving as OUCA president in 1946 as was Ted Heath in 1937.