Lewis Holtby says he's excited for Tottenham's upcoming London derbies against West Ham and Arsenal as the race for a top four spot heats up.
Andre Villas Boas' men are currently third in the table, just one point ahead of their bitter north London rivals with a game in hand as theylook to qualify for the Champions League for the first time since 2011.
And Holtby, who chose a move to Tottenham over Arsenal in the January transfer window, says he can't wait to show just how good he can be when the pressure reaches an all time high for Spurs.
"I can't wait and we've two massive games in a row now, West Ham and Arsenal," he told the Tottenham official website.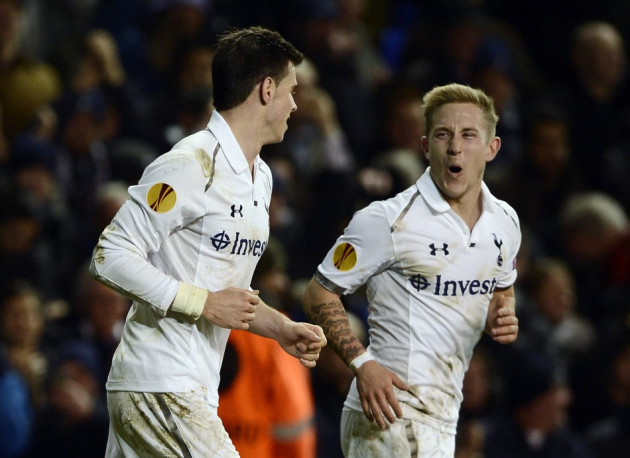 "It doesn't get better than that! I'm already buzzing for those games. Everyone was so chuffed, delighted for all the hard work we put in [against Lyon] and I think we deserved it over the 90 minutes.
"It was great to see the lads so happy and we now go with a good feeling to West Ham on Monday, another huge game."
For Tottenham, there are huge battles to face on multiple fronts this year, as they attempt to land some silverware in the Europa League and secure a top four finish.
With Chelsea losing to Manchester City at the weekend, Tottenham have the chance to move into third place and Holtby is well aware what it will mean to gain a victory over the Hammers.
"It's an important game for everyone, for the fans, for West Ham, for us, sitting in fourth spot and trying reach third, it's a vital game," he explained.
Gareth Bale also revealed his excitement ahead of the Arsenal game, with the star winger going so far as to claim that his side are now better than their rivals.
"I think five or 10 years ago Arsenal were always miles ahead of Tottenham. But that has changed in recent years," he told the Sun.
"Over the past few seasons we have closed that gap and I think now we have overtaken them on the pitch. I think we have the stronger squad. Hopefully we can continue to do that as a club off the pitch as well, with the new stadium that is being built.
"But on the pitch and as a team now we are a lot more consistent and as a club we're moving in the right direction. Arsenal may say they are still ahead of us. But whatever people's opinions I don't think anyone can deny we are up there fighting with them on merit now."