Blackburn Rovers manager Michael Appleton is hoping that he will be able to persuade Tottenham to allow midfielder David Bentley to return to Ewood Park on loan for the rest of the season.
The 28-year-old has struggled to gain regular first team action at Tottenham in the last few years and has been sent out on loan to Birmingham City, West Ham United and FC Rostov.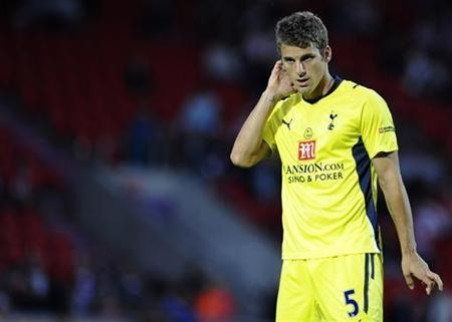 He returned to Spurs after a short spell in Russia but has not managed to force his way into Andre Villas-Boas' plans and it is believed that the club would not be against the idea of once again sending him out on loan.
The Sun has reported that Appleton is keen to bring Bentley back to Blackburn some four and a half years after he left the club to move to Tottenham in a £15million deal.
Appleton admitted earlier this week that he had informed the club's owners that he wanted to bring in at least four new players to help with their push for promotion, and it seems that Bentley may well have been on that list.
"I have given the owners four names I am desperate to bring to the football club on top of DJ [Campbell] and Lee [Williamson] and I will wait for either the green light or the red light," said Appleton, as quoted in the Lancashire Telegraph.
"I walked in here and the balance of the squad was all over the place, in my opinion. We had a lot of number 10s, too many number 10s.
"I am trying to address the balance of the squad as quickly as I possibly can. Obviously quite a few players left on loan on deadline day and all we are doing with the numbers is re-addressing that."
Bentley has struggled to make any sort of impact at Tottenham since moving their in the summer of 2008 when he was widely regarded as one of the best right wingers in the country. He has played just 42 league games in that time and has fallen well down the pecking order.
However, with Blackburn just outside the play-off places, Appleton may well feel that Bentley has something to offer as it was not all that long ago that he was involved in England squads and excelled in the Premier league.