All hostages in London's Tottenham Court Road bomb scare have been released, according to reports from the scene.
Four people were thought to be held in an HGV licensing company's office in Shropshire House on Tottenham Court Road by a man with gas canisters strapped to his chest, threatening to blow himself up.
He was identified by a witness as Michael Green.
Stephen Hull, the executive editor of the Huffington Post UK who is on Tottenham Court Road, spoke with one of the workers who was in the office, belonging to Advantage, when a man strapped with gas canisters is alleged to have walked in threatening to blow himself up.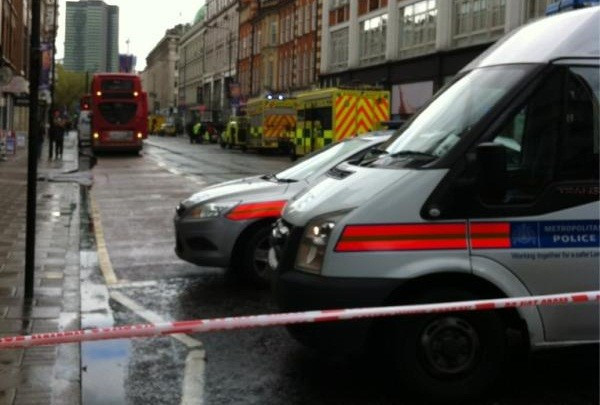 Abby Baafi, 27, the head of training and operations at Advantage, has now told Hull that there is nobody left in the office.
Police negotiators are in contact with the man, thought to be 49 or 50 years old.
"What's happened is we were in the office, someone came in and we asked him what his name was ... I recognised him because he was one of our previous customers," Baafi told Hull when she first came out of the building.
"He just turned up in gasoline cylinders ... He threatened to blow up the offices. He said he doesn't care about his life, he doesn't care about anything, he's going to blow up everybody."