Gareth Bale has insisted that he is taking the Europa League very seriously, with the winger admitting that the Tottenham squad are still hurting from not qualifying for Champions League football.
Spurs finished fourth last season, which on any other season in the history of the Premier League would have deemed them entry into Europe's highest tournament.
But with Chelsea winning the Champions League trophy, and finishing sixth, the Blues were able to take the allocation normally given to fourth place as they made up for their poor league finish with European glory.
And though Bale is still disappointed not to be in the competition, Tottenham's biggest star says he would be delighted to win the Europa League trophy.
"I'm not too sure to be honest [if the formation helped Spurs tonight]," Bale said, reports Goal.com.
"We needed to bounce back from the weekend result and we certainly did that."
He continued: "I think everybody wants to be playing in the Champions League.
"Obviously we were unfortunate not to get in there last season but this is the next best thing. We've all put 100 per cent in every game we have played, we have taken the competition seriously and hopefully we can win this one."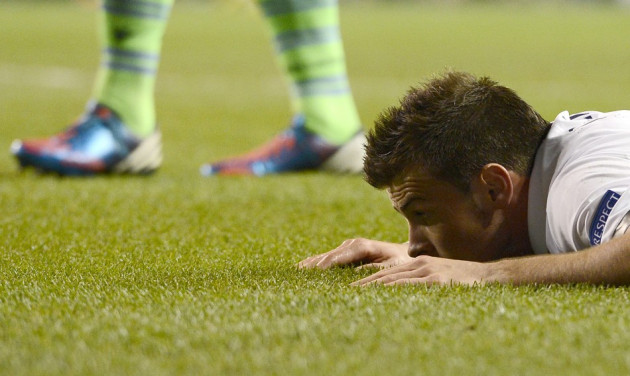 Meanwhile, Jermain Defoe scored a hat-trick in Tottenham's come-from-behind Europa League win last night. And while the striker hasn't been selected for the England squad, despite his positive form, he was pleased to break Teddy Sheringham's scoring record at the club.
"Obviously as a forward you get judged on scoring goals," he explained to ITV. "It is always the best feeling in the world.
"For me that is special on a personal note because Teddy is a player I used to watch as a kid, he was a fantastic player and a great goalscorer for club and country so I'm happy with that."
Defoe has now scored 126 goals for Tottenham, beating Sheringham's tally of 124.
The striker also said he believes that Spurs have improved significantly in their Europa League form, with the north London side responding well to the pressure of going down to NK Maribor 1-0 in the first half.
"Yeah I think it was a lot better," he said. "We pressed high from the minute go and the tempo was good. The movement was good, we kept the ball better and I'm sure everyone is delighted.
"It was important that we won the game tonight. It was important that we bounced back from the result at the weekend and I was delighted."