Villas-Boas Coy On David Villa Move
Tottenham Hotspur manager Andre Villas-Boas has admitted his admiration for Barcelona's David Villa, but insists the club are solely focusing on finish fourth for now.
Spain's all-time leading goal scorer was heavily linked with a move to Arsenal in the January transfer window, but in recent days interest from their north London rivals has emerged.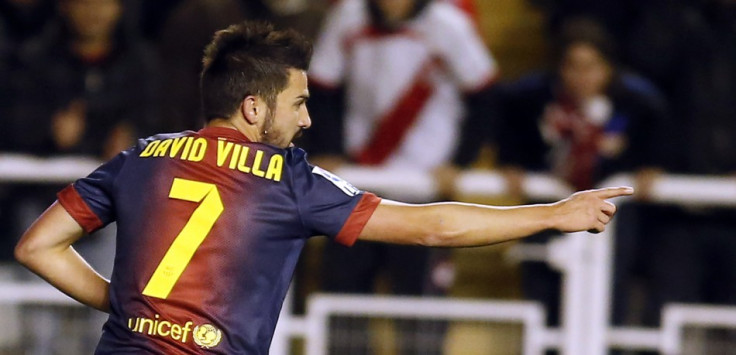 Reports have suggested that Spurs will bolster their front line with the 31-year-old this summer, and manager Villas-Boas has done little to dispel rumours of a summer move for the striker.
"He is one of the world's best strikers," Villas-Boas said.
"What comes out of speculation at this time at Tottenham is very surreal because you know the club is very active in the last weeks of the transfer window, so you can see that speculation is growing - but at the moment we are focused on trying to get fourth spot."
While fully concentrated on the conclusion of this campaign, the considerable upheaval around clubs at the top of the table inevitably has Villas-Boas already considering the challenges of next season.
With both Manchester clubs to start the 2013/14 campaign with new managers, Chelsea are expected to welcome Jose Mourinho back to the club during the closed season, something that could shift the balance of Premier League power back to Stamford Bridge, AVB suggests.
"I think Chelsea will absolutely be the team to beat next year, bearing in mind the manager we expect to come in and the strengthening of a very good squad," Villas-Boas said, ESPN report.
"Next year could be a very good year to throw yourself into the race for the title, bearing in mind the changes at the top and we are confident that we can add to our squad and compete as well."
"Our step at the moment is to be in the Champions League, not the title contenders, but we hope to be competitive next season if we manage to do things properly in the summer."
The acquisition of Villa could certainly be seen as doing something "properly" this summer, but one man who is unlikely to be part of the Portuguese manager's summer plans is Ante Rebic. The club have been linked with a £5m move for the RNK Split forward this summer, but Villas-Boas made it clear the Croatian is not a target.
"Rebic? I have no idea who this player is, I'm sorry. I don't know where this news has come from, not out of disrespect to the player but he's not someone I'm looking at."
© Copyright IBTimes 2023. All rights reserved.