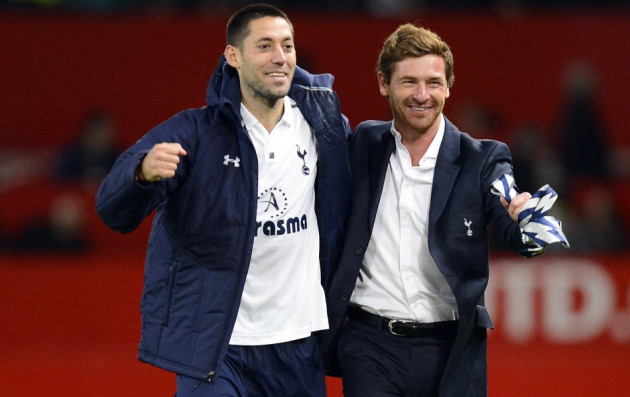 Tottenham Hotspur boss Andre Villas-Boas has played down talk Spurs are contenders for the Premier League title this season.
The north London outfit defeated Manchester United 3-2 at Old Trafford - for the first time in 23 years - over the weekend and are fifth in the league on 11 points, just one behind the Manchester giants.
Following the historic win, Villas-Boas' side have been touted as potential title challengers for this season but the Portuguese tactician finds the title battle a difficult proposition at the moment and says he only wants to ensure a Champions League berth.
"I don't think so. A couple of days ago, we were exactly the opposite. This [winning at Old Trafford] is very special night but our quest is to qualify for the Champions League. It is very difficult to go for the title. We understand it is a place where the great teams of this country belong. We want to win a trophy this season and we want Champions League qualification," Sky Sports quoted the 34 year old as saying.
Villas-Boas was appointed Tottenham manager in the summer, after Harry Redknapp was shown the door as the veteran failed to lead the club to Champions League qualification, after being in the top three, for most part of the season.
Levy Blocks Rovers' Sherwood Approach
Meanwhile, Tottenham chairman Daniel Levy has reportedly refused to let technical co-ordinator Tim Sherwood leave White Hart Lane for Blackburn Rovers.
The former Spurs and Rovers midfielder is now wanted by the Championship club, following Steve Kean's resignation from the managerial post at Ewood Park last week. And there are now rumours that Levy has rejected an official approach from the Lancashire club for Sherwood, according to the Daily Mail.
"That's all they are - just rumours. That's all I know about it. I've got a great job where I am. There is nothing to consider. It's just speculation. I love what I do. I'm happy at the football club, it's a great project," the report quoted Sherwood.
The 43 year old, who currently focuses on developing young players at Tottenham, led Rovers to the Premier League title in 1995.