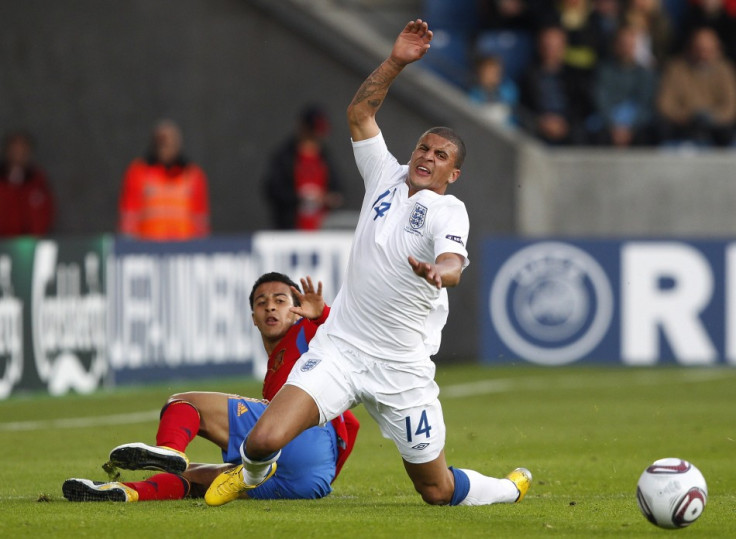 Tottenham Hotspur fullback Kyle Walker has been compared to Chelsea left-back Ashley Cole following his impressive display against Sweden on Tuesday night.
It was the Tottenham Hotspur youngster's first start for England and he displayed all of the attacking instinct that has endeared him to the White Hart Lane faithful this season, so much so, that former Liverpool captain turned Sky Sports pundit Jamie Redknapp, has compared the right-sided fullback to Chelsea star Ashley Cole, who is widely deemed the best left-back in the world.
Whilst the Chelsea defender is undoubtedly the finished article and a nailed on certainty to start next summer's European Championships injury permitting, Redknapp believes Walker has the potential and the attacking prowess to become England's first choice right-back.
Fabio Capello has tried a number of different options in a position that is yet to be truly filled since the retirement of Manchester United hero Gary Neville, most notably Old Trafford pair Phil Jones and Chris Smalling, and Liverpool's Glen Johnson, but Redknapp suggests the aforementioned Tottenham defender has the ability to be England's first choice ahead of next year's tournament in Poland and the Ukraine.
Redknapp told The Daily Mail: "Kyle Walker made an impressive start on his full debut and I see him going to Euro 2012 as England's first-choice right back.
"He came back from loan spells at QPR and Aston Villa with an attitude that said: 'I want a place in the Spurs team now.'
"He's still learning, but he's willing to learn the defensive side of the game. He looks like a right-sided Ashley Cole."
In the aftermath of England's first victory over Sweden since 1968, Fabio Capello reserved special praise for Walker and two his young teammates Jack Rodwell and Phil Jones of Everton and Manchester United respectively.
"It's important to beat Sweden after 43 years but it was more important to see Jones, Rodwell and Walker play against a team which is really organised and difficult to play against." The Italian said.
"The answer that I received from the performance is really important for me. And these three players played really well."
Walker was named man-of-the-match after the match at Wembley, and the Tottenham star admitted the whole experience had been a 'whirlwind'.
"It's been a whirlwind of a two years for me," Walker told the Daily Mail.
"I was in the under 19 squad two years ago. 'I'm thankful for the opportunity I got tonight and, hopefully, I can keep going.
"It's an honour, really to get out on the pitch and finally show what I can do.
"I'm grateful and I owe a lot to my mum and dad for this.
Speaking about making the step up to full international football, he added: "You have to always concentrate. There are more experienced players. There are more dangerous players,' he said.
"But the under 21s is a fantastic level as well and you have to have that experience coming up through there to get into the seniors.
"Thankfully, the gaffer Stuart Pearce gave me the opportunity to play there in the summer and I think I learnt a lot from that as well."
He continued: "It's an exciting squad now. It's full of youngsters - me, Danny Welbeck, Phil Jones, Rodwell - the list goes on.
"We're all in the manager's thoughts and I hope we're there in the summer."